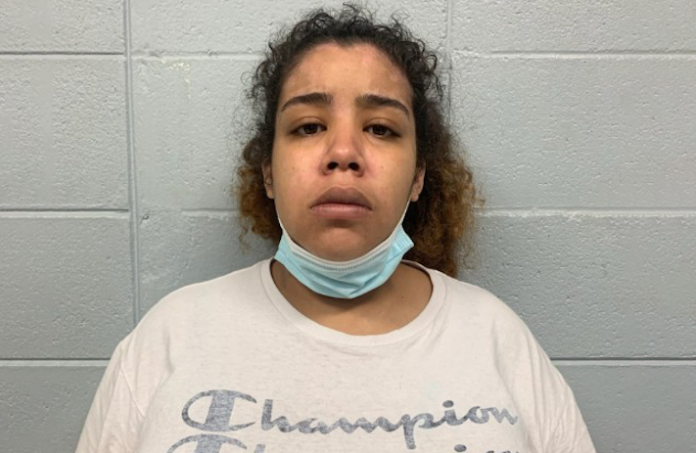 According to the police officials, the 24-year-old mother is under arrest. Authorities say the mom allegedly punched the toddler in the stomach. The woman's boyfriend was arrested last week for disposing of the child's body. Investigators found the child stuffed in a suitcase in a forest. An autopsy determined that the cause of death was homicide.
The couple were arrested and both booked Wednesday on one count each of second-degree murder in the death of 2-year-old Nevaeh. The 30-year-old boyfriend, Phillip Gardner, was already being held on charges of unlawful disposal of human remains and obstruction of justice.
Police responded to a report of a missing child on Sept. 24. When the officers arrived in their home in Louisiana, the boyfriend allegedly told them that when he woke up from an afternoon nap he discovered that Allen was missing. He said that the child's mother, Lanaya Brittany Cardwell, had been at work when the child went missing. State authorities in Louisiana and Mississippi immediately began a search for the child.
Investigation led to the recovery of Nevaeh's body in a wooded area in Mississippi. An autopsy determined that the cause of death was homicide.
The boyfriend told authorities that on the morning the Nevaeh was reported missing, the child picked up her mother's contact lenses while Lanaya was getting ready for work. The angry mother then allegedly punched the toddler in the torso with a closed fist, which caused the toddler to fall and hit her head on a bathroom cabinet.
She then dragged the little girl to another room where the boyfriend couldn't see what was happening but heard what sounded like two adults fighting. 5 minutes later, the girl came out with a large bruise on her forehead. During that day, the child complained about severe stomach pains and refused to eat. He said he then went to sleep and woke up to find the child unconscious.
Gardner told authorities that he tried to perform CPR, but also admitted that he did not try to call 911 and later stuffed the girl's body into a small suitcase. He then loaded the case in the car and dumped it in a grave deep in the woods of Mississippi. 
The coroner's office has reported that the girl's thighs and buttocks were covered in bruises. The child also had several bruises on the face and head, swelling to the brain and marks on her face. Authorities also say that it can't be ruled out that the victim was still alive at the time that Gardner placed her in the suitcase and suffocated to death prior to succumbing to the other injuries. This is a developing story and it will be updated as new information become available.