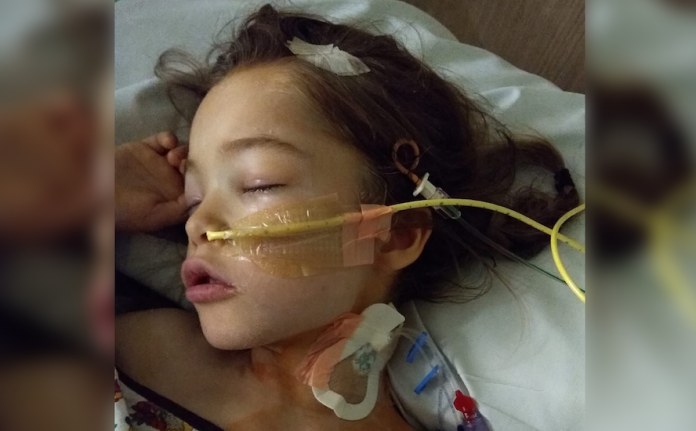 The unfortunate mother said she initially thought her young daughter had flu. The mom said her 7-year-old daughter was sick for months and began losing weight before doctors discovered that the girl was was suffering from a rare brain disease. The mom said she was concerned about her daughter's symptoms, who was sick for months and was dramatically losing weight, but never thought a life-threatening disease would be the cause. Now, the mother fears the worst each time her young daughter gets a headache.
The girl's mother, Ceri, told the Sun that she was worried about her daughter's, Indeg Roberts, symptoms but never thought they would be caused by brain tumor.
The girl's mother, Ceri, told the Sun: "She had been vomiting on-and-off for a while but we just thought it was the flu at first, we had spoken to the doctors over the phone and they thought it could be lots of different things, like stomach problems, or anxiety because of the pandemic.
But towards the beginning of November 2020, Indeg started to go off her food and was losing weight rapidly. I took her to the GP and she was referred to the hospital in Bangor, and was taken for a CT scan.
At that point, I said to the nurse, 'I know what you're looking for,' I knew they were looking for a tumour. Within about an hour we had the results back and that's when they told us.
When the doctor said it was a brain tumor, I just fell to my knees and cried and cried – it was like an out of body experience. Because of Covid I was on my own, so I had to ring Indeg's dad and tell him, which was horrible."
According to Ceri, the 7-year-old girl was diagnosed with a cancer called Ependymoma. Unfortunately, the little girl underwent a 9-hour operation to remove the cancerous growth.
The child then undergo radiotherapy and five rounds of chemotherapy.
In December 2020, Indeg received proton beam therapy, Ceri said.
During an interview with the Daily Post, Ceri reportedly said: "It was very upsetting to be away at Christmas, and Indeg was so poorly – though I think she coped better than I did. It was absolutely heartbreaking that we were so far away from each other, looking back I actually don't know how we did it, I don't know how we coped."
Even during five cycles of chemotherapy, Indeg would ask to go to the park whenever we could. Playing outside and using the climbing frame really got her through those dark times.
It's one of the first things she said when we told her about the wish, she made her mind up that that's what she wanted very quickly."
Indeg and her three sisters, who are aged 5, 10, and 13, had to grow up quickly since the diagnosis, their mom said.
According to Ceri, Indeg and her siblings now spend as much time as possible playing together on their climbing frame, before school and into the evenings.
Luckily, the treatment for the girl's cancer was a success. Her family says that she will continue to have routine scans every few months for the next five years to make sure she's cancer-free.
Ceri reportedly said: "When I look out the window and see Indeg and her sisters enjoying themselves out in the garden, after everything they've been through, I can't put into words. It's the best feeling – it just means the world.
I'll always worry about her, whenever she mentions a headache I panic, and the fear of it coming back is horrible, but I know that we've done everything we can. She's so strong and determined despite everything she's been through."