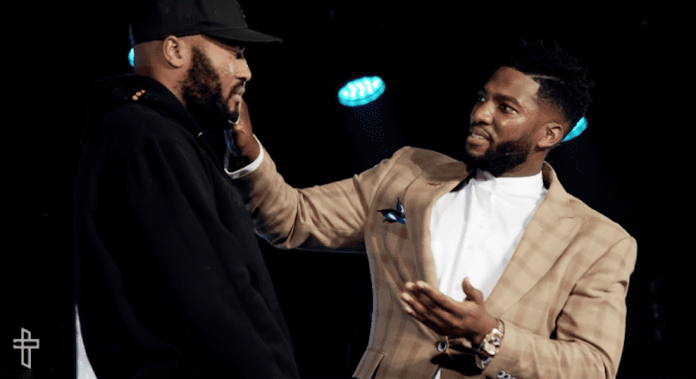 A pastor went a little too far during his recent sermon after rubbing his spit across the face of an attendee. Now, the Oklahoma priest is apologizing for his "too live" action on stage.
The sticky situation occurred on Sunday as Transformation Church Pastor Michael Todd began preaching a passage, Mark 8:22-25, from the Bible. It is the story of blind man Bethsaida whose eyesight is restored after Jesus rubs his spit into his eyes. 
As Todd narrated the story of the man who was born blind and preaches to the crowd about Jesus' miracles, he decides to cup a little bit of his own spittle and massage it onto the face of a constituent, who had been called onto the stage, according to reports.
Of course, this didn't sit quite well with the audience, who immediately responded with disgusted groans. To this, Todd says, "What I'm telling you is how you just reacted is how the people in your life will react when God is doing what it takes for the miracle."
In no time clips from the sermon became viral on social media with many viewers criticizing the pastor for rubbing his sputum on another person during a time when coronavirus cases continue to rise in the state. In response, Todd, the lead pastor at Transformation Church in Tulsa, Oklahoma, posted a video where he admitted that his decision to smear his spit on a stranger was indeed gross. 
"I watched it back and it was disgusting," he said according to reports. "That was a distraction to what I was really trying to do. I was really trying to make the word come alive and for people to see the story, but yesterday it got too live. And I own that."
He added, "I just want people to know that we want to help people. We want people to see Jesus. We want people to feel loved. We want people who are desperate to be able to find hope. And I'm passionate about that. So much so that I try to do extreme things to help people get it. Yesterday it crossed a line."
Concluding the post, he told his followers that he did call the man whom he spat on to talk about the controversial incident. "I just called him. He was bald before I spit on him, and he's still bald today," joked the pastor.
"So, no miracle here. Next time I'll rethink it and do something different." The caption on his Twitter post read, "It's never my intention to distract others from God's Word and the message of Jesus… even with illustrations! I apologize for my example being too extreme and disgusting! I Love Everybody."