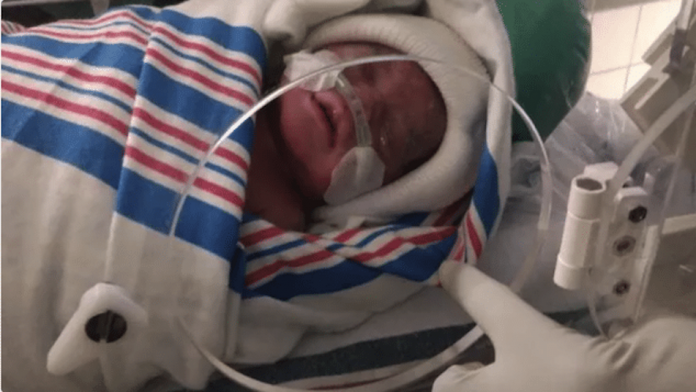 The 36-year-old pregnant mother was forced to deliver her baby earlier than scheduled after being shot multiple times. The Uber rideshare driver reportedly shot her in the leg once and the stomach twice. The mother, seven months pregnant with her first child, and the baby are in good shape. The woman said that she ordered her Uber, and when the driver picked her up, he was in a different car than the app was showing.
This incident occurred around 10:09 p.m. Saturday in Georgia. This victim's father, Kenneth Anderson, saw his 36-year-old daughter arriving in her Uber. Few moments later, Kenneth said he heard gunshots and saw his son laying on the ground on top of his sister.
Kenneth Anderson reportedly said: "It's pretty much like I kind of blacked out an was trying to hold on. I was running wild. I probably dialed 911 like ten times. I kept screaming. When police pulled up, I started screaming at them telling them to come up and seek medical."
The victim told investigators that she ordered her Uber, and when the driver picked her up, he was in a different car than the app was showing.
Kenneth Anderson also said: "She said, 'When I realized that was the driver, I asked him why he wasn't in the car they showed in the app. He got smart with me and I got smart with him. We argued from when he picked me up to here.'"
Unfortunately, the argument escalated to gunfire. Police officials said the pregnant woman was reportedly shot three times, in the leg and in the stomach by the alleged rideshare driver.
She was then taken to a hospital, when she had to be delivered early. Both the baby and the mother are in stable condition.
Investigators already know the suspect's identity and are working to arrest him.
"The details surrounding the horrific act of violence towards the rider and her newborn are nauseating and our thoughts are them as they recover. We stand ready to assist law enforcement with their investigation."
The company officials also said that Uber prohibits both riders and drivers from carrying firearms of any kind while using the app unless they are completely unloaded and locked in a container in the trunk of the vehicle. 
Kenneth Anderson added: "We're going to have a lot of hospital bills. I work every day part-time basically but every day. I'm on disability. My daughter don't work and I know we'll need help. Ain't been able to get much stuff for the baby yet."
A GoFundMe Page has been created to help the family with medical bills. This incident remains under investigation. This is a developing story and it will be updated as new information become available.