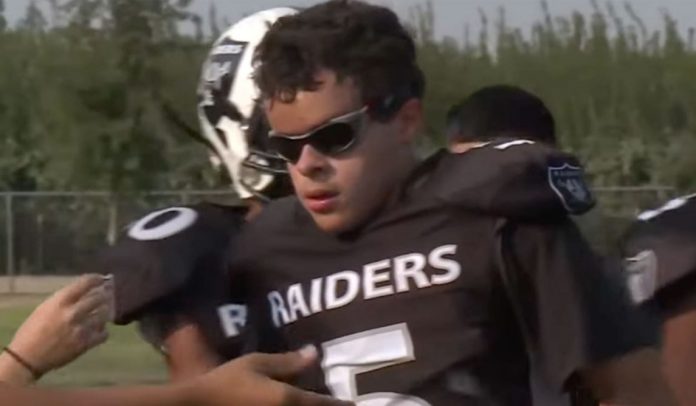 When this teen football player was just a toddler he was diagnosed with retinal cancer, and within a few years he lost his vision. But, that didn't stop him from chasing his dreams of playing football. The teenager, who is a starting quarterback, helped lead his team to a win over a team that had turned him down because he was blind.
The teenager from California, Jasen Bracy, was only a toddler when he developed retinal cancer, and by the time he turned seven he was blind. While he liked many sports, he always wanted to play football, however, his parents weren't thrilled with the idea of their son playing a contact sport.
"How is this going to be possible for him to get out there and play?" his father, also named Jasen wondered.
Once Jasen was old enough, he took matters into his own hands. He began calling local football coaches and asking if he could play on their team.
"The way he was on the phone, I just said, 'Come on we'll figure it out,'" David, coach for the Modesto Raiders.
While the 15-year-old may have had to work harder than any of his teammates, he's earned his spot on the team just like everyone else.
Recently, he scored a running touchdown which helped his team secure a win against one of the teams that initially told him he couldn't play with them.
During the games, the teen's father is on the sideline and uses a walkie talkie to direct him on the field.
Jasen said his ultimate goal is to play in the NFL, but for now he'll see how far he can go.