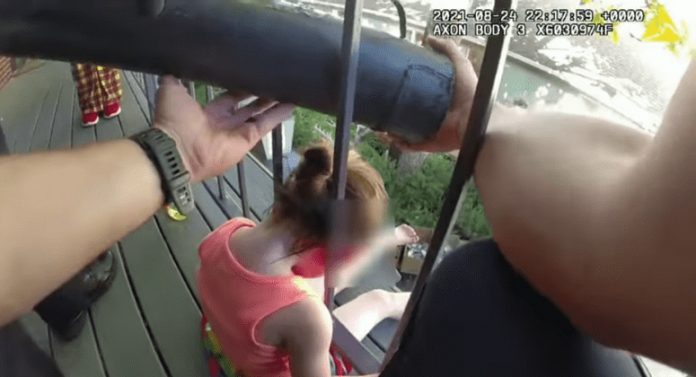 A little girl learned the hard way not to poke her head in unusual places. The child was sitting around and enjoying the view from her apartment complex. But soon enough, she realized she could not move because her head was stuck between the railing. Officers arrived at the apartment complex and only needed seconds to free the child from the uncomfortable position. They used a battering ram to pry the bars open just enough to let the child slide her head out all by herself.
Within no time, the girl from Colorado was up on her feet and fell into her mother's arms. "I was crying and whining. The police come and got my head out with a big heavy tool," said the 3-year-old. "Well right now it feels oh so nice!" the child added.
One of the officers, Sgt. Marquez, could see how people were starting to panic when the child was stuck. But he knew it was imperative for him and Officer Kyle to stay calm.
"…I could see she was panicking and it looked like her family and other people around her were stressed out and panicking. I decided I wanted to help," Marquez said. "I think it just comes with experience on the job because if you're spun up showing your nervous or panicking, that might make them panic even more. Remaining calm is important."
Finally seeing the child be free and scuttle away to her mother was the highlight of their day. "It just melted my heart," Marquez added. "It was a great day. It felt good to help her, help her family, people around her were having a tough time, we were making it better for them."
Right after the quick rescue, officers had a chat with the little girl and made sure she didn't need medical attention. The child's mother is also grateful to the officer for quickly putting them all out of their misery.
"I was quite scared, my stomach was in my throat, but I knew I had to be calm and let her know there was nothing to be scared of," the mother admitted. "…The officers were amazing actually. They gave her stickers and a badge to make her feel special. I'm just really glad they were able to put us at so much ease, my daughter especially. I mean they were great with her."
The officer also gave a small message to the public and said: "Don't be afraid to call the police. If you're thinking maybe I should call the police, call the police. We're happy to come on our and help you in any way we can."