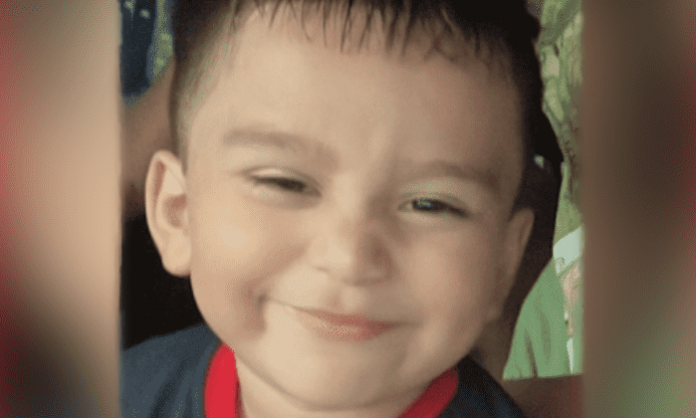 This family is desperately urging the public to help them find 3-year-old Christopher after the little boy went missing. Authorities say the 3-year-old boy was out playing with the neighbor's dog before he followed the canine into a wooded area at around 1:30 pm. Wednesday. His mother was handling the groceries from her car after a shopping trip when the boy ran after the dog into the woods. The boy's mother then ran after him and tried looking for him in the woods. Unfortunately, she couldn't find the child.
A few hours later, the neighbor's dog returned at around 8:30 p.m. But, the child did not make it back.
"Please help me," the heartbroken mother, Araceli Nunez, said through tears at a press conference. "I feel as though someone took him and is hiding him. I don't have any enemies."
So far, investigators are still treating Christopher's case as a rescue mission and are holding on to every bit of hope that the case does not turn into a recovery mission.
The last time the boy from Texas was spotted, he was reportedly wearing a bright green shirt, shorts (unknown color), and red Mickey Mouse shoes. Details also revealed that the three-foot-tall boy has brown hair and brown eyes, and he weighs 40-45 pounds.
"We're now re-going back to square one to think about if we missed anything," said Sowell from the Sheriff's Department. "We canvased the neighborhood yesterday. Three times. Four times. Everything is fitting into place but we have not found the boy."
Sowell also said that they checked the homes of two registered sex offenders in the area but found nothing.
In response to the mother's fears of her son being abducted, Sowell said, "She had emotions running rapid and she felt that way but we have no facts, no clues, or no evidence of that being true."
Tim Miller, working with Texas EquuSearch, also said they are hoping to find Christopher soon and have no reason, so far, to suspect foul play in the case.
"We know where he's not. We're holding to hope that we're going to get him back," Miller said. "The one fact is that he's missing. We really don't know what happened. There's a lot of speculation. We don't have anything. We'll be here until we find him or until we run out of every resource possible."
As part of the search for the little boy, rescue teams drained one pond and searched three water bodies in the area to find no traces of Christopher.
"He's not in the lake. That's good news," Sowell revealed. "This is still a rescue. It is not a recovery. We are still looking for that young man."
Continuing to stay hopeful, Sowell said, "We will continue to search for him until he is found. We will stay out here until he is found." Please call the Sheriff's Office at (936) 873-215 if you have any information about this incident.