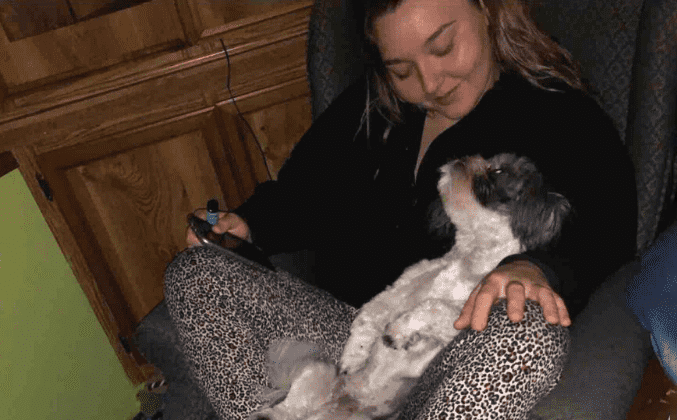 While the 20-year-old woman was looking around for her dogs' leashes in the car, one of her dogs got his foot burned by hot water nearby and started to panic. The frantic dog then fell into a hot spring, and the woman then jumped in after the one-year-old pup. According to the police officials, the temperature of the thermal spring can climb up to 190-degree Fahrenheit. And the young woman suffered third-degree burns from her shoulders to her feet before her father was able to pull her out.
Her name is Laiha Slayton and authorities say she was visiting the Yellowstone National Park from Washington with her father and her two Shih Tzus, Rusty and Chevy.
The Yellowstone National Park released the following statement on Facebook:
"When the woman and her father exited their vehicle to look around, their dog jumped out of the car and into Maiden's Grave Spring. The woman entered the thermal hot spring to retrieve the dog. The father pulled her out of the feature and then drove the party to West Yellowstone, Montana. She was then transported to the Burn Center at Eastern Idaho Regional Medical Center."
The 20-year-old woman is now in a medically induced coma and is recovering from her burns. Unfortunately, her pup Rusty succumbed to his wounds and passed away.
"My sisters palms are completely gone and will have to go into surgery and possibly for the rest of her body too," Laiha's sister, Kamilla, wrote on a GoFundMe page set up to offset the medical costs for Laiha's treatment.
"She is in a medically induced coma for 2 weeks, had emergency surgery, and has 3rd degree burns on about 90% of her body," Kamilla added. "She will be under for 2-3 weeks and probably be in the hospital for a few months."
As for Laiha's father, who managed to pull her out within seconds, he came out of the incident with a burn on his foot.
In an update on Laiha's condition, Kamilla shared: "The burns seem to be better then they had initially thought she still has some 3rd degree burns but mostly 2nd degree burns after they have got a better look at the skin today. This means that our dad pulled her out insanely fast. She's incredibly lucky. Dad saved her life. Please send love and praise his way. She was in the scalding water for about 8 seconds."
Image Source – GoFundMe Page