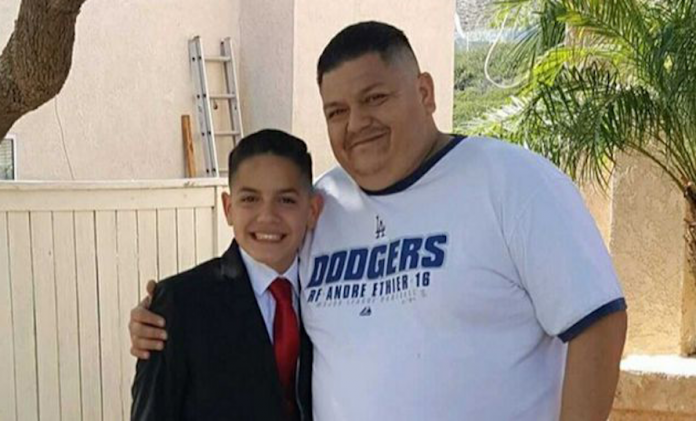 Boy died by suicide following a bout of depression after blaming himself for his father's COVID-19 death. "At the end of August, my family and I contracted COVID and within a matter of days, I lost my husband," said the heartbroken mother, who has now lost her child as well. 
According to reports, the mother from California, Stephanie Reyes, said she and her 46-year-old husband Anthony Reyes, Sr. were invited to an event at school by their 17-year-old son, Anthony Jr., right before they became infected. Thus, when his father died, Anthony Jr. could not help but blame himself for his untimely demise. 
"He felt guilty. He felt like he was the one who got us sick," explained Reyes of her late son. "He felt like he was the reason why his dad was gone and we talked to him all the time, and told him, 'It wasn't your fault.'" Even before his father's death in September, Anthony Jr. was struggling to cope with his emotional battles triggered by the countrywide lockdowns. 
Due to the Covid-related lockdown, businesses and schools had been shut down and the teenager could no longer get back to his daily routine. He even reflected on these feelings in an essay he wrote right after the pandemic started.
"The whole coronavirus affected me in many ways, and the way the pandemic affected me the most was through my mental state," read the essay Anthony Jr. wrote during one of his classes in August 2020.
"With everything being closed, it was becoming increasingly harder to stay home with my depression," he continued. According to reports, even though Reyes recognized her son's emotional crisis and tried to get him into counseling, she, unfortunately, could not get an appointment at the time. Then three days after Christmas, Reyes woke up to a sight that no parent should ever have to see. 
Her son's bedroom light was on when she got up at 4 a.m. On entering his room she found that her son had taken his own life. "I knock on the door to his room and I'm like, 'Hey, kid, it's 4 in the morning, what are you doing?'" she said. "He was gone. I couldn't believe my baby's gone."
A GoFundMe Page has been created for the grieving mother to help her pay for her son's funeral charges. "He was only 17 years young and had his whole life ahead of him. He was the happiest kid ever and had the most contagious smile and laugh that would brighten anyone's day," read the description of the fundraiser. 
By sharing her son's story, Reyes hopes that it will maker other parents aware of the dangers posed by depression. "I know a lot of kids are hurting and I want parents to look for the signs and to get help right away, especially for the kids who lost a significant person in their life," she shared.