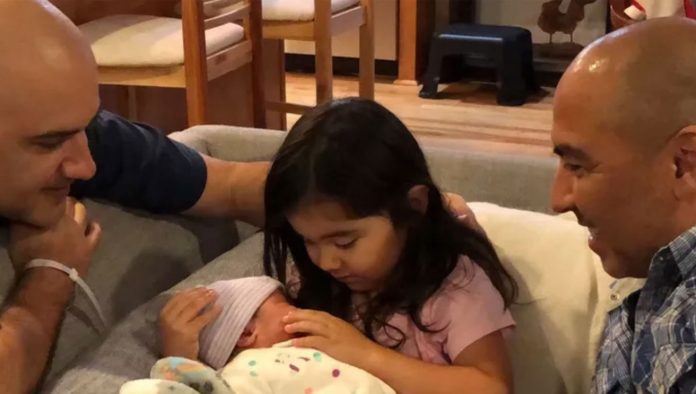 According to the police officials, the father of two is recovering after an estimated 10 shots were fired into his family home on Saturday. The bullets hit him in the face as he was holding his 5-week-old daughter.
"I just started screaming 'get down, get down, get down'!" Jimmie Lopez said.
According to a GoFundMe set up by the family from California, the family of four, plus a roommate were at home when shots rang out Saturday evening.
Marco, Jimmie's husband, was holding the couple's 5-week-old baby when he was hit in the face by a bullet.
Jimmie yelled at everyone to get down, and he helped their 4-year-old daughter crawl towards the kitchen to safety.
"I saw blood on the floor, and his teeth, and I was trying to get him to turn over so I could see what had happened to him but he wouldn't allow me to turn him over," Jimmie said.
While Marco suffered a fractured jaw and is missing his teeth, their baby only suffered minor abrasions on her face.
He has already had one surgery and is scheduled to have several more in the coming "days and months."
For now, while Marco receives care in the hospital, Jimmie finds himself asking, why us?
"I'm playing the 'why' game right now because we don't talk to anybody really aside from our immediate neighbors, so I'm trying to figure out if it's because we're gay. I just can't believe this is random."
Although the police say it was a shooting and have not specified it will be considered a hate crime, Jimmie is scared for his family's safety.
He's currently living elsewhere with his children and looking for another place to live.
No arrests have been made, and there are currently no suspects. Jimmie is hoping that someone saw something that Saturday night and will come forward with information.
Image Source – GoFundMe Page