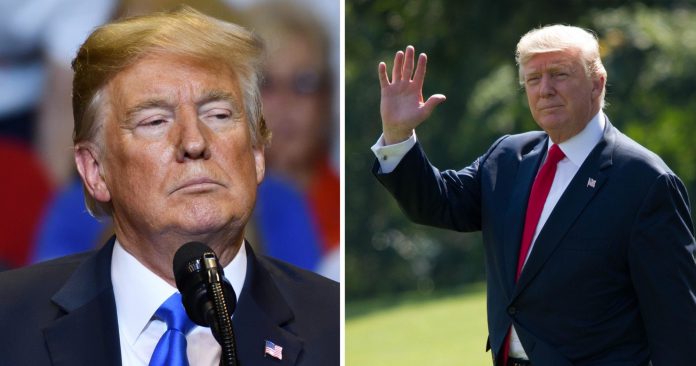 The question on everyone's lips is whether or not Donald Trump will be running for President in 2024. Advisors to the former President have claimed that he will indeed run, while others argue that his time in politics is over. It's not yet clear if it will actually happen, though a former White House aide has interestingly claimed that it might be Trump's physical condition that is the biggest factor regarding if he'll run or not. Perhaps somewhat alarmingly for Trump fans, she has said the former President might not be healthy enough to run.
According to former White House aide Omarosa Manigault Newman, Donald Trump might not be in good enough physical condition to even run for President in 2024. Speaking on MSNBC, she suggested that Trump would benefit from speaking about how he's actually feeling.
"I think, going into 2024, I'm really more concerned that Donald Trump hasn't come forward and talked about his health," she said.
"I don't know if he will even be healthy enough to run in 2024, and I think he needs to come clean to the American people about where he is on that before getting into a very stressful and strenuous race for the White House," she added.
Back in October of last year, Trump's health came in for questioning after the former President tested positive for the coronavirus. At the same time, the White House received heavy criticism over the fact that they weren't more transparent in releasing news on his health.
Trump's coronavirus diagnosis came just a month before facing Joe Biden in the 2020 presidential election. Trump was first treated with an experimental drug cocktail injection and the antiviral medication Remdesivir. First Lady Melania Trump also tested positive for COVID-19. Several conflicting statements were put out over the seriousness of Trump's well-being.
Although Trump returned to the White House following his coronavirus treatment, CNN reported that the former president's well-being wasn't as good as first reported. Back in February, Trump's condition was worse than officials were willing to acknowledge to the public.
Citing four people familiar with the former president's condition, Trump experienced "extremely depressed blood oxygen levels." He was also found to have lung infiltrates, which can be a sign of serious illness in corona-positive patients. The ex-president's condition became so grave, there was even talk of putting him on a ventilator, a person close to Trump said.
Lung infiltrates occur when "the lungs are inflamed and contain substances such as fluid or bacteria. Their presence, especially when a patient is exhibiting other symptoms, can be a sign of an acute case of the disease. They can be easily spotted on an X-ray or scan, when parts of the lungs appear opaque, or white," according to CNN.
Thank you @OMAROSA for joining me tonight on #PoliticsNation. pic.twitter.com/IH8Lk7BCKo

— Reverend Al Sharpton (@TheRevAl) October 4, 2021