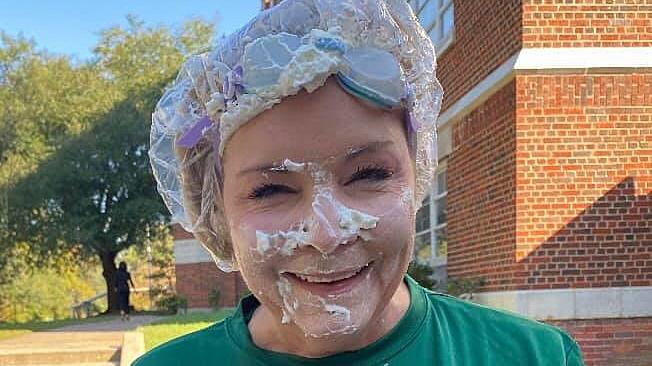 I love to tell the story of someone who goes above and beyond the call of duty and we have so many in our community. In this case, I consider this person a friend and one of the areas best educators.
Mary Harris is principal of South Highlands Elementary Magnet School and she took one for the team again this year.
Harris says "I'll take a pie in the face any day as a reward to our students for raising almost $40,000 for our school. Addison raised the most $ and was the one that got to do it while her class watched!"
6-year-old Addison Eubanks is in Mrs. Bond's 1st grade class all of the youngsters had a blast watching their principal take a pie in the face.Harris noted that she used goggles and a shower cap this year after learning last year that it takes about 3 showers to get whipped cream out of your hair and eyes.
She also sent words of gratitude out to Shelley Armstrong, Tracy Shell Jones, Coach Harris, and to all the businesses that donated shirts, food coupons, and water bottles (Learning RX).

South Highlands is the only school in the district named a National Certified Magnet School of Excellence by Magnet Schools of America! Because of the pandemic they were not able to accept this honor in person, but it did arrive in the mail earlier this month.