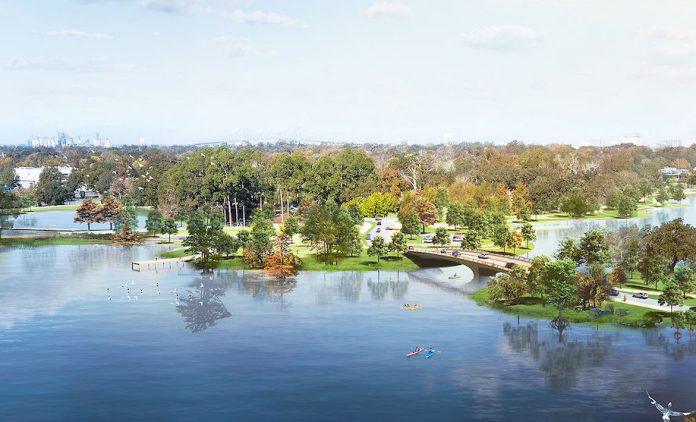 Baton Rouge, LA – According to the officials, the construction, led by Sevenson Environmental Services, will reportedly begin this summer.
The Louisiana Watershed Initiative is contributing $10 million to Phase 1 of the project through CDBG-MIT funding from the U.S. Department of Housing and Urban Development.
State officials have announced that the project will increase the storm water retention capacity of the lakes and reduce flood levels in surrounding areas during rain events.
The project is proposed to accomplish expanding floodplain, creating marshland, improving water quality and restoring wetlands and fish and wildlife habitats at the LSU and City Park Lakes.
It will address flood storage through an improved detention basin and drainage, reducing flood levels for the low- to moderate-income areas north of the LSU campus, including the McKinley High School campus and areas downstream of the lakes.
The CDBG-MIT funding represents nearly one-third of the funding committed for Phase 1.
The first phase of the University Lakes Project includes water quality, flood risk reduction efforts and mobility improvements addressing the key areas identified as critical by participants in the public engagement process.
Phase 1 completion is expected by December 2023 at a total cost of $32 million.
Phase 2, dependent upon future funding, will deepen and reshape the remainder of University Lake.
Gov. Edwards released the following statement: "Today's announcement marks an important milestone for the greater Baton Rouge community and the many people throughout our state who visit and enjoy the University Lakes regularly. The start of construction to restore the lakes is now just a few months away.
This important and exciting initiative is the outcome of the early vision of the Baton Rouge Area Foundation and the more recent collaboration and funding of several community partners. As we revitalize and enhance this much-beloved area of Baton Rouge, we will also reduce flood risk for surrounding areas and increase recreational amenities for the broad community."