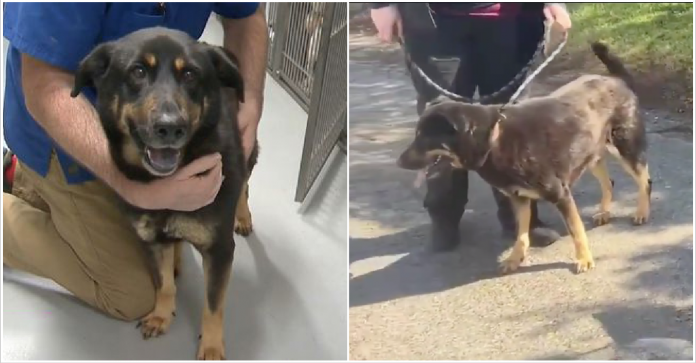 The animal shelter said the dog was abandoned by his owners after they described him as being "gay". His owners left the pooch at the rehoming shelter after he reportedly 'humped' another male dog. The dog is described as weighing around 50 pounds or 23 kg and likes being around people. The animal shelter posted on Facebook Tuesday that the lovely dog had found new family to love him for who he is.
The animal shelter in North Carolina told of the animal's plight on their Facebook page.
"Fezco likes people and other animals and is a "good boy" and has urged people to "step up" and care for him temporarily before he is adopted." the animal shelter said.
The animal shelter posted on Facebook Tuesday that Fezco had found new family to love him for who he is.
The shelter confirmed that the dog's new owners are Steve Nichols and his longtime partner John, according to TMZ.
Steve Nichols said: "It's just such a silly reason to turn in a dog. We just thought it would make sense for the gay dog to be adopted by a loving gay family."
The couple renamed Fezco "Oscar" after the Irish poet and playwright Oscar Wilde — who was gay.
The couple said that they felt an immediate connection to Oscar and his story because they have been also faced discrimination.
Steve Nichols reportedly said: "I was in shock. I flipped through and passed to the next story, and then something snapped inside of me.
We've been together for 33 years, and in 33 years, we've faced the same ignorance, bigotry, but we talked about it, and we thought, 'This time we're going to do something about it.'"
The couple also said that Oscar's (Fezco's) previous owners were not only bigoted, but apparently pretty bad at taking care of him — the dog hasn't been neutered and has heart worms.
Oscar was reportedly admitted to animal hospital where he was treated for heartworms, neutered and given a health check. 
As for his humping of another male dog, Dr. William Pressly, a veterinarian, said all dogs do it and it has nothing to do with a dog's $exuality, according to NBC News. It's a dominance thing and a play thing, the doctor said.
Oscar's new owners said that they intend to nurse the pup back to health.