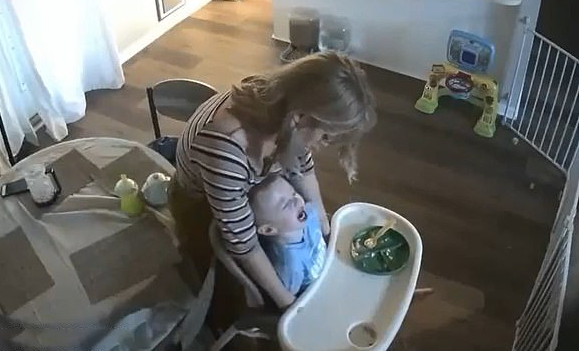 Angry and heartbroken, this couple will now find it hard to trust a stranger with their child after what their previous nanny did to their two-year-old boy. The child's stepmother was at work when she happened to take a look at their nanny cam and saw the horrifying sight of their nanny force-feeding her stepson Declan. The camera captured the nanny holding the child's arms down and trying to shove some pot pie into his mouth.
Helplessly sitting in his high chair, the boy screamed and tried to resist whilst shouting "NO!" and crying for his parents.
"We are learning today," the nanny, Lauren Rowe, screamed at the boy. "You need to learn that you need to eat your food, and then we can be all done."
When the parents from North Carolina, Laura and Max Oglesby, saw the shocking footage, they were about an hour's drive away from the house. So they immediately called up Declan's birth mother, who lived close by and asked her to get to their son.
By the end of the day, the nanny was fired, and Laura wrote in a text message: "You are no longer needed to nanny for us, and my suggestion is that you don't nanny at all until you learn how to patiently handle children. The way you handled Declan tonight in the high chair trying to force-feed him is textbook child abuse… You broke a mother's heart tonight." 
The boy's father, Max Oglesby, revealed that the video they shared of the incident was just "a small clip of the two hours [Rowe] spent doing this to our son."
"And I wasn't there," he said. "S*** hurts."
The couple decided to share the video to make sure Lauren doesn't do this to any other child ever again. "We put it out there because if people didn't know, they would still hire her," Max said.
"You don't expect it to happen to yours," the father admitted. "She was recommended to my wife on a Facebook group for moms. She's got a check on freaking care.com. I feel like we took the right steps."
When the distraught father shared the video on social media, he wrote, "We are heartbroken for our son and furious that this happened."
The mother said, "I wanted to kick her (bleep), I wanted to come here and pin her down and I wanted to put food in her mouth."
Following the incident, Lauren was arrested by authorities on Wednesday and is now facing a misdemeanor charge of child abuse. She was later released upon posting a bond of $2,500 and is scheduled to appear in court on November 8, 2021.
The boy's mother put up a post on Facebook after the nanny's arrest and wrote, "We are all emotionally drained by this whole experience. Our main goal now is to make sure this sticks to her like glue so she can't ever do this sort of thing to a child, dog, or person in general ever again."
Image Source – YouTube Video