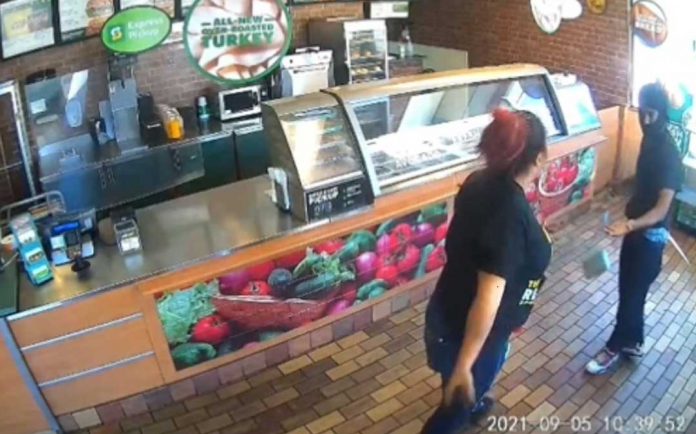 This woman claims she has been suspended for her job at a Subway after she defended herself when a man with a gun came into the store and attempted to rob her. She believes her suspension is related to security footage of the crime that has since gone viral online. The incident occurred in the beginning of September while she was at the store by herself. The man walked in and demanded money.
After the incident, surveillance footage was shared online where it quickly went viral. Sotelo also shared it a clip on TikTok.
"He kind of just showed me his gun, and I was like freaking out like, 'woah you can't do that please leave,'" she said. "[He said] 'give me all the money' and I said 'I do not have any money, like, I do not have any money.' That is all I had and he was just like, 'give me everything before I hurt you.'"
When the suspect grabbed her purse, Araceli Sotelo fought back. During the struggle the man's gun fell and Sotelo was able to grab it.
"He dropped it trying to hold onto my purse, and I end up pulling his sweatshirt off him and I was like 'show your face, show your face, you are on camera.' and he was like 'here you can have your purse back just give me back my stuff.' He wanted me to give him back his gun and his clothes," she said.
Sotelo hit him on the head with his gun before he took off with her purse and its contents. He did not steal any money from the store in Illinois.
Once the footage was online, Sotelo said she received a call telling her that all of the videos had to be removed or else she would be suspended.
"And then I texted them and I'm like 'how long am I suspended for?' They said till everything is removed online. I have no ability to do that."
Sotelo insists she did not leak the video.
While the local Subway franchise owner has not responded to comments from media nor have they responded to Sotelo, Subway's corporate headquarters stated that the owner and manager are "fully cooperating with the police investigation."
In the meantime, Sotelo is without a job, phone, and no response from her boss. "I really put my life in danger. My life was in danger, and I feel like nobody really cares, because of that and they let me go, and I feel like they are just treating me like I never meant anything, like the way they just suspended me," she said.