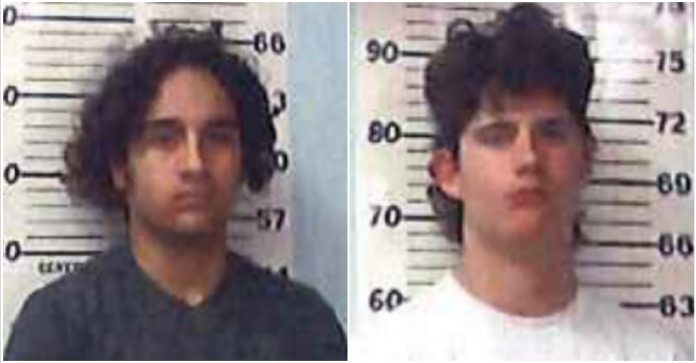 According to the court documents, two 17-year-olds are indicted on multiple charges after dressing in Klan outfits, harassing and tasing a Black teenager while a White female classmate recorded the incident. A hate-crime enhancement was added to the felonies, according to the indictment, because the teens intentionally selected their victim 'primarily because of bias or prejudice against African Americans.'
According to reports, the two kids who were dressed in Klan outfits played on the football team with the Black classmate that they tased. The White teenager's grandfather was a top law enforcement official, according to reports.
According to reports, two 17-year-old boys from Texas, Noel Garcia Jr. and Rance Bolcik, are indicted on charges of engaging in organized criminal activity and tampering with evidence. A hate crime designation has been added to each charge. The name of the victim and the girl were not released. This incident occurred on Halloween night in Texas.
Both defendants could face from two to 10 years if found guilty of the charges. Each is being held on $10,000 bond. Both charges are third-degree felonies, and the indictments also include a hate crime enhancement.
Cellphone footage reportedly shows the Black teenager backpedaling through a field while a figure wearing a White sheet with the eye holes cut out approaches him.
The White female, who is recording the incident, then tells the Black teenager "If you say their names, they're gonna tase you."
The gun is fired again as the Black teenager continues to back away. Then a second figure in a white sheet and hood comes into the frame. In one hand, he's holding a small purple device, according to reports.
"KKK," the girl announced.
According to reports, the unidentified girl then tells the two boys to surround him after which one of the boys reached out and hits the Black teenager with the taser. 
Civil attorney Matthew Manning is now representing the Black teen, according to reports.
He released the following statement:
"​​WOODSBORO INCIDENT INVOLVING TASING OF A BLACK TEENAGER BY KIDS DRESSED AS KLANSMEN
It's my understanding that a young black teenage boy may've been tased, terrorized, and menaced by three kids dressed as Klansmen in or near Woodsboro, TX on Halloween night, as he was trick or treating.
If this is true, I'm incensed. If it's not, I'm still incensed that this is the kind of thing that's still totally plausible in 2021.
If you know anything about this incident, please let me know. I need to know what happened if anything.
The perpetrators had better hope I don't get on this case because if I do, there will be legal hell to pay."
The principal of the school released a statement saying the school could not discipline the three students because the incident did not occur on school grounds.