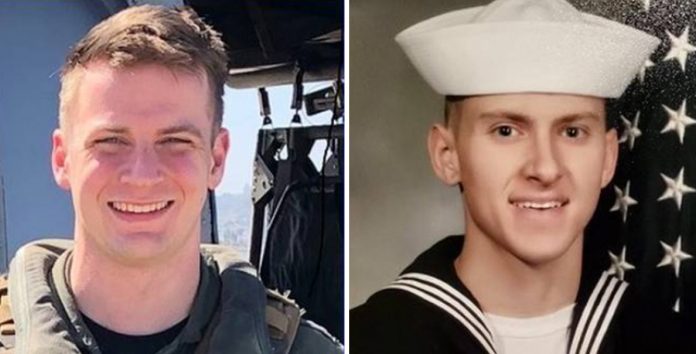 Five U.S. Navy sailors who went missing after a helicopter crash off the California coast have been named. The five sailors were declared dead after the MH-60S helicopter crashed into the Pacific Ocean around 60 miles off the coast of San Diego. It happened while the sailors were conducting routine flight operations at about 4.30 pm on Tuesday.
Following more than 72 hours of search and rescue operations workers shifted to recovery efforts of the sailors who were assigned to the "Eightballers" of Helicopter Sea Combat Squadron (HSC) 8.
The Navy have now identified the five sailors as Lt. Bradley Foster, 29, of California, Lt. Paul Fridley, 28, of Virginia, Naval Air Crewman 2nd Class James Buriak, 31, of Virginia, Hospital Corpsman 2nd Class Sarah Burns, 31, of Maryland, and Hospital Corpsman 3rd Class Bailey Tucker, 21, of Missouri.
A sixth crew member who was rescued later that day has not been identified.
According to the United States Naval Institute news site the helicopter was on the deck of USS Abraham Lincoln (CVN-72) when a mishap caused the helicopter to fall into the Pacific
"Five additional sailors aboard Abraham Lincoln suffered injuries in the incident and are in stable condition. Two of the five Abraham Lincoln sailors were transported ashore for treatment, while three of the five Abraham Lincoln sailors had minimal injuries and remain aboard the ship," according to the United States Naval Institute news site.
Officials have yet to disclose what caused the crash and an investigation is underway.
"We are deeply saddened by the loss of five Sailors and those injured following the MH-60S helicopter tragedy off the coast of Southern California," Chief of Naval Operations Adm. Mike Gilday said.
"We stand alongside their families, loved ones, and shipmates who grieve."
According to the Navy this was Bailey Tucker's first assignment out of training and Sarah Burns had been assigned to the unit for nearly three years.
One of the pilots, Paul Fridley, had arrived at the squadron in 2018 and this was his first assignment out of training and the other pilot Bradley Foster had been with HSC-8 since January 2019.