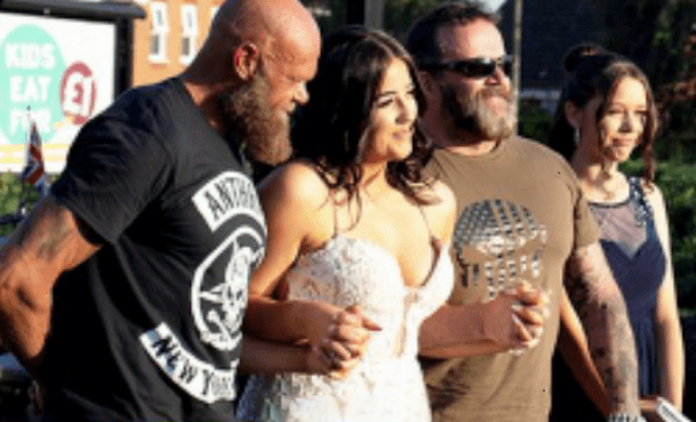 "We've got our daughter back." That's what the parents of this 15-year-old girl thought when they saw her light up with the brightest of smiles on the day of her prom. And they have about 300 bikers to thank for it. From the age of seven, Felicity has been bullied and often felt worthless because of the torment she went through. The past year has been especially difficult for her, and she felt anxious as the date for her high school prom approached.
Her parents could sense her anxiety, and they began thinking of what they could do to remind their daughter of how loved she is. Felicity's mother, Kathryn, put up a post on the WAC Motorcycle Club on Facebook and mentioned how the teenager has been bullied from the very first day of primary school.
"My daughter Felicity is 15 and has dyslexia and she is currently being diagnosed with Asperger's so she finds making friends incredibly difficult," Kathryn wrote. "…Felicity has been looking forward to her prom as she feels that this will be the point where she can show them (the bully's) that they can't hurt her anymore. They have been bullying her so much she is even contemplated suicide in the past year, so I really want her prom to be everything she wants and needs it to be."
When the big day arrived, the family was overwhelmed with gratitude when about 300 bikers showed up to chaperone Felicity to prom.
"We were only expecting about 10 or so people, and there were already about 50 bikes, and then they just kept on coming batch by batch to the point that they were all lined up on the grass verge, it was mind-blowing," Rich said.
As she made a grand entrance, Felicity showed up at her prom at the Worcester Warriors Stadium with a long trail of bikes behind her. The bikers revved their engines while Felicity's teachers and classmates welcomed them with applause. Rich spoke about the priceless feelings they were all filled with as they watched Felicity have the time of her life.
"Proud of her doesn't even touch it," he said, "she's an amazing girl… To see her light up like a Christmas tree was absolutely fantastic. When she sat on that trike and I looked at her, it was like time stood still and I just thought, 'we've got our daughter back.'"
"She was in there all that time, and it just took something big and something special to show how loved she is," continued the happy father. "When you've got someone crunching you down time and time again, you don't see anything good in yourself. So, to see that smile break out on her face was very overwhelming. I'm incredibly, incredibly proud of that girl."