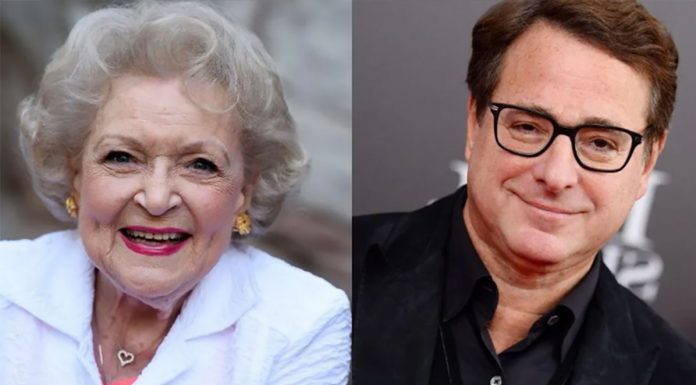 Stand-up comedian Bob Saget had pondered the afterlife while paying tribute to the late great TV star Betty White, who passed away on New Year's Eve. Days later the much-loved comedian was found unresponsive in a hotel room in Florida. Following the news that Betty White had died Saget paid tribute to the comedic legend in an Instagram post.
"I don't know what happens when we die," the actor wrote, "but if Betty says you get to be with the love of your life, then I happily defer to Betty on this."
Saget was referring to the time White had been asked about the afterlife in an Inside the Actor's Studio interview. Host James Lipton asked White what God might tell her upon her arrival at the Pearly Gates.
To which Betty replied: "Come on in Betty. Here's Allen."
White's second husband, Allen Ludden died on June 9, 1981, at the age of 63 from stomach cancer. Responding to a question from Larry King as to whether she would ever consider marrying again Betty said: "Once you've had the best, who needs the rest?"
Saget, the 65-year-old star of TV sitcom "Full House" and "Fuller House" who was pronounced dead on Sunday Jan. 6. had just come off a stand-up show on Saturday near Jacksonville, Florida, before returning to his room at the Ritz Carlton.
A source told People that his wife Kelly Rizzo said she had talked to him a few hours after his show and recalled how happy and excited he was. He was due to fly home to LA the next day.
Saget paid tribute to Golden Girls' star Betty White saying: "This amazing woman was exactly who you wanted her to be…Razor sharp wit, smart, kind, hilarious, sincere, and so full of love."
He recalled the moment he "snuck into The Mary Tyler Moore Show" when he was 15-years-old and watched her "hit everything she said out of the park, to decades later, getting to hang out with her on several occasions.
"I had a small peek into what a remarkable talent and human being Betty was," said Saget.
White died of natural causes at her home in California on December 31 at the age of 99, just 17 days short of her 100th birthday.