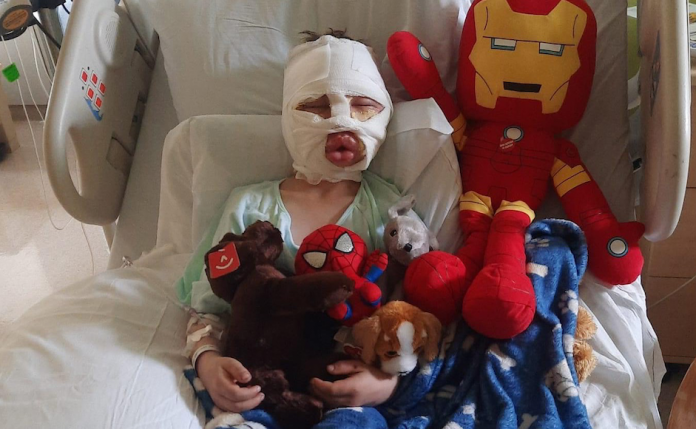 According to the boy's family, the bully covered a ball in gasoline, lit it on fire, and threw it at him. The 6-year-old boy has second and third degree burns on his face and leg. The boy's sister said that the bully, who lives downstairs, has gotten away with too much and has a history of bullying. The bully's family thinks it's a joke. Even though the 6-year-old boy can't talk because he's in a lot of pain and all swollen, he said to his mom, "Please don't take me back there."
The boy's parents said their 6-year-old son, Dominick Krankall, was going downstairs to his backyard to play like any other day when he was attacked by his bully. Now, his body is mostly swollen because of the vicious attack he faced on Sunday, NBC Connecticut reports.
The boy's older sister Kayla Deegan says her little brother was playing in their backyard with other children who live below their home.
Kayla reportedly said: "As soon as he walked down the stairs, the bully called his name and lured him over around the corner, and in a matter of seconds he came back around the corner screaming, saying 'Mommy, they lit me on fire.'"
His bully is allegedly their 8-year-old neighbor who according to the victim's family has had a history of bullying the 6-year-old boy.
The family from Connecticut believes his bully got into a shed on the property where he was able to access gasoline and lighters. After he had secured these items, he called an unsuspecting Dominick over.
"What he did was pour gasoline on a tennis ball, took a lighter, lit it up and just chucked it right at my brother's face — and then ran away from him and watched him burn." Kayla Deegan told NBC Connecticut.
Dominick was immediately rushed to hospital just before 4 p.m on the day of his attack. The police have said they are currently investigating a report of 4 unattended minors in the area playing with gasoline and lighting objects on fire.
Medical professionals at the hospital treating Dominick say that he will make a recovery. But the 6-year-old's family is not satisfied. They are enraged at the bully and his family, stating that this is not the first time the 8-year-old bully has required Dominick to go to the hospital.
According to FOX61, he had previously been attacked by the bully about two months ago. During that incident, the children were being supervised by their neighbor, the bully's mother!
"Two months ago under the bully's mother's supervision, he was pushed into a wall and fell to the floor. And again, the mother refuses to admit her kid did it," said Dominick's older sister Kayla Deegan.
The incident is currently under investigation but no charges have been filed as of yet. Dominick's family is praying for justice and wants to get his story out into the world so that someone is able to do something about it.
The family has also set up a GoFundMe Page to help with the hospital expenses that have come with treating Dominick's injuries and helping the family relocate as well. In the information about the fundraiser, his sister shared the heartbreaking details of Dominick's attack and subsequent condition.
Dominick's sister Kayla Deegan wrote on the GoFundMe page that, while talking is a task for the 6-year-old right now, he told his mother "Please don't take me back there," referring to their home.
She shared that the 6-year-old was barely able to speak or eat because of his swollen lips and burned face. The family is beside itself with sadness at having to witness the lively child in so much pain and not being able to do anything about it.
As for the bully, Kayla writes that his family is treating the alleged attack as a "joke" and thinks the 8-year-old is innocent. The boy's mother posted on her social media account that while investigators were at their home, their neighbors whose son is involved in the alleged attack were "lighting lighters" in their windows and taking the whole horrific tragedy as a "joke".
"This is my Dominick who had a ball covered in gasoline then lit on fire thrown at him by an 8 year old boy who lives downstairs from us, my son was lit on fire his leg and face and to know that the mother of this child refuses to admit her child did something wrong to my baby who could have burnt to death if he didn't know how to stop drop and roll, seeing my baby in pain is killing me each and every second, this IS NOT the first time this child has bullied and hurt my kids.
I just ask for all the prayers for my Dominick right now to help ease his pain no child deserves this and the fact that this family is taking it as a joke n lighting lighters in the window as investigators are at our house is sickening. Prayers for our Dom we all love you you're a tough little guy." the boy's mother, Maria, shared on Facebook.
Aaron Krankall, the boy's father, told WTIC that they were grateful for the community support in the days since Dominick was burned.
No other details were immediately available to be shared to the public. Neither the 8-year-old nor his family have been publicly identified.