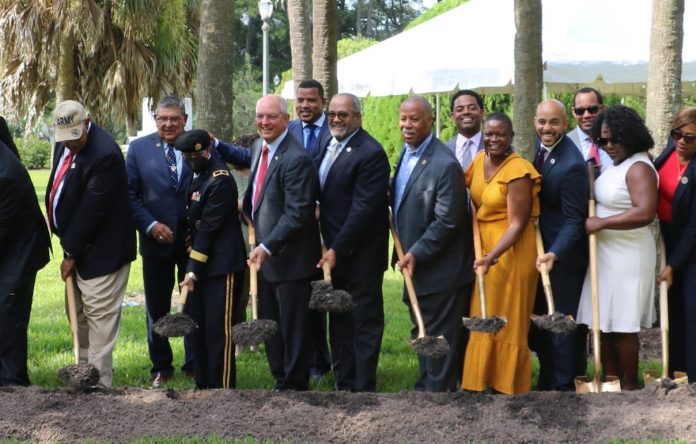 Baton Rouge, LA – State officials have announced that the Monument will be the first of its kind on the State Capitol Complex. According to the state officials, the monument will honor freed, formerly enslaved Louisiana soldiers who fought for the Union during the Civil War as well as soldiers from World War I and II, Vietnam, the Iraq War and more recent conflicts.
It will also recognize the sacrifices of their loved ones. According to the U.S. Department of Veterans Affairs, there are more than 80,000 African American veterans in Louisiana.
Funding for the monument is through a public private partnership between the Louisiana Department of Veterans Affairs, Entergy and Walmart.
The monument will be designed by artist, Shaleen Jones who teaches at Xavier University and has done several other public artworks in the New Orleans area.  
It is set to be completed by summer 2023.
Gov. Edwards released the following statement:
"I was proud to sign Act 432 by Sen. Gerald Boudreaux last year, which establishes that this important monument be placed in the Louisiana Veterans Memorial Park.
Though it has been a long time in coming, the day is finally here when we will pay tribute to the bravery and courage of the African American men and women who have honorably served and protected our state and nation. It is the right thing to do.
And as a veteran, I know that when we serve- so do our families. This monument recognizes the sacrifices their loved ones have made as well.
I look forward to the day when we unveil this monument and encourage everyone to learn about the great contributions of these and all of our American military heroes."