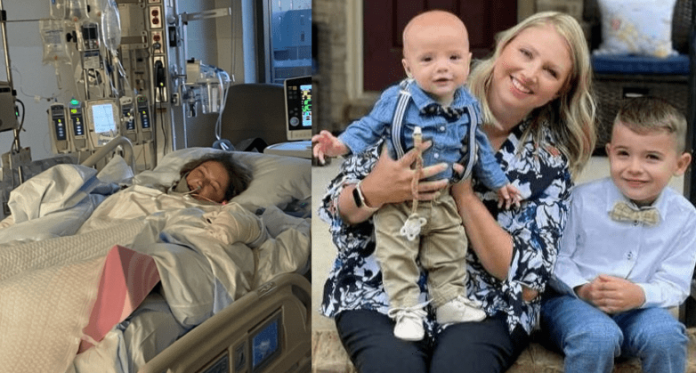 A mother-of-two came out of a terrible explosion at her family's brewery and is now in the hospital beating the odds day by day. The woman was sanding a table on September 10, 2021. She was caught in a fire after dropping the sander. "An explosion happened, and she was engulfed in flames. She was able to crawl out of the flames and walk, and roll and, she put herself out of fire," her husband, André said.
The woman, Charlie Anne Xavier, came out of the incident alive, but about 85 percent of her body was covered in burns. The mother is now on a long road to recovery that might take several years and different treatments. This unfortunate accident occurred at her family's brewery in Virginia.
"Right now we're in the scary stage," André said. "The scary part is the recovery because it'll be years, years, years, you have to learn everything. Everything from walking to eating to everything."
As Charlie is putting up a great fight in the hospital, her family is rallying around to support her. Loved ones have set up a GoFundMe page to help with finances and said that any leftover money "will be donated to a burn survivor charity in Charlie's name."
"Charlie is a powerhouse," said the message on the fundraiser. "She's the girl cheering the loudest, smiling the brightest, and laughing non-stop. She's the first one there when something or someone is needed, and always the one who can make you smile and feel good about yourself after being with her. She's a wife and a mother to two beautiful boys – a four-year-old and nine-month-old. She will heal and come home, and it's our privilege to serve her now."
Her husband is also sharing updates on a Facebook page called Cheering on Charlie, where he revealed that she has gone through 11 surgeries so far. The husband is aware that this is only the beginning of his wife's recovery. But he is still glad that she's off to a good start.
"I would like to share something about Charlie, since I met her 14 years ago, and since we have been married for 13 years, I don't ever remember her complaining about her pain," André said in one post. "She was diagnosed with RA at age 17 months, so she knows pain all her life! And it is no different now, even though I can't even fathom the idea of her current pain, she has not complained once!"
The entire's family life has changed after the accident, and André believes that his love for his wife has also changed with it.
"I don't have words to explain how incredible this is for me, the ability to suffer in silence it is something reserved for incredible souls and Charlie is an incredible human being and soul!" André continued. "I can confidently say, that my love for her has grown and shifted since the accident, I feel like my love now is almost a form of devotion, I have accepted this new role that has been assigned to me on our new life! I am devoted to take care of my beautiful wife and soul mate and our two adorable little boys."
Continuing to stay hopeful, André said, "She's beating the odds day by day. I know she'll come home. I have no doubt."
Image Source – GoFundMe Page