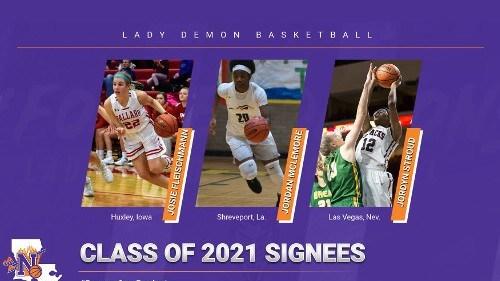 The first full recruiting class for first-year Northwestern State women's basketball head coach Anna Nimz got off to an impressive start Wednesday.
Nimz announced the signing of three prep players – local talent Jordan McLemore, two-sport athlete Josie Fleischmann and post presence Jordyn Stroud.
The uber-versatile McLemore is a 5-foot-11 guard from Shreveport's Captain Shreve High School.
She is a three-time all-district selection for the Lady Gators who have won the District 1-5A title in each of McLemore's three seasons thus far. Her efforts helped Captain Shreve win the 5A State Championship during her stellar sophomore season.
Excelling off the court as well, McLemore was a finalist for the 2019 Hugh O'Brian Youth Leadership Award. She is a two-time distinguished scholar recipient and a member of both the National Honor Society and National English Honor Society. She also serves as a member of the student council and Black Studies Association.
McLemore's success on the court and in the classroom comes as no surprise for the daughter of NFL draft pick Thomas McLemore and Lady Techster star Danielle Whitehurst McLemore.
"She brings an incredible amount of versatility to our game," Nimz said. "She's a kid that we think can come in right away and add to the culture of the program and meet our standards and expectations with flying colors.
"Not only can she get to the rim, she has the ability to shoot the outside shot and can really spread the floor for us. With her length and burst ability, she's going to be a great asset on the boards. It's exciting to bring in who I would consider one of Louisiana's top talents."
A two-sport stand out from Huxley, Iowa and Ballard High School, Fleischmann is a 5-foot-7 guard that can shoot, shoot and shoot some more.
In four years running cross country Fleischmann has qualified for the state meet and been named first-team all-conference each year while helping her team win both the district and conference titles along the way.
Fleischmann and her Ballard teammates recorded four top-10 finishes at the state meet and are back-to-back Iowa 3A State Championship.
On the court she's help lead the Bombers to a 42-5 record the past two seasons with a pair of conference championships.
She is a two-time all-conference recipient and picked up a first-team all-district honor following her junior season where she set a school record for 3's made with 73 while shooting a blistering 46 percent for the season.
"She's coming in to fill that shooting spot," Nimz said. "She can spread the floor and has a little quicker first couple of steps. What we really like about her too is that she's a great cross-country runner. When you pair that with her shooting she's got incredible endurance. When you're tired your shot goes to the wayside but when you're a cross country runner you've got a little more in the tank."
Stroud fills a role on the team and in the future of the program just like her fellow signees. The 6-foot-1 center from Desert Oasis High School in Las Vegas, Nev. gives the Lady Demons some much needed presence around the rim.
Playing at one of the premier programs in Las Vegas, Stroud has been a key component in the Diamondbacks' success. With an overall record of 65-14, one league championship and a state runner-up in the past three seasons, Stroud is used to winning just like McLemore and Fleischmann.
As a junior Stroud led the team in rebounds with 7.1 a night and finished second in scoring at 8.8 a game. Showing her athleticism and ability not only around the rim but in space, she added 1.3 assists and 1.7 steals per game.
"She's a long very athletic player that can track down a rebound," Nimz said. "We're excited about her ability to really get out and run rim to rim. She's going to bring the length that we're looking for both on the offensive and defensive ends. I think she'll be one that comes in and gives us some really good minutes as a freshman."