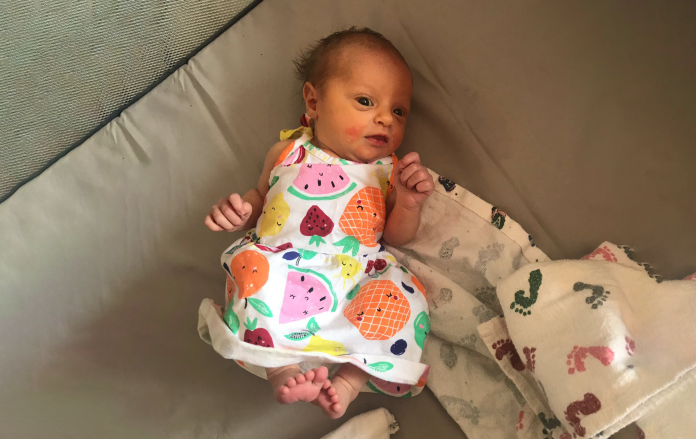 The 22-year-old mother and the 21-year-old father were taken into custody Wednesday evening. The couple is now charged with one count each of first-degree murder for killing their 3-month-old baby daughter. Prosecutors said the couple killed their infant daughter less than two months after social services returned the baby to their custody. The child's grandmother pleaded with Child Welfare Services not to return the baby to her parents, but they did about a month-and-a-half ago.
On Wednesday, officers responded to an emergency call about an unresponsive infant in their residence in California around 11:15 p.m. When the officers arrived on scene, they found the child was not breathing and performed CPR. EMS personnel arrived soon after and continued performing life-saving procedures. The child, Delilah, was taken to a hospital, where it was pronounced dead.
The couple, Elizabeth Ucman and Brandon Copeland, were taken into custody Wednesday evening and charged with one count each of first-degree murder for killing their 3-month-old baby.
Adrienne Arnett, Ucman's grandmother, said that it appeared the baby was tortured before her death. She told KNSD:"The baby was seriously injured, and how do you injure infant babies? They just lie there. You cuddle them. So, the baby obviously had pretty serious injuries. God only knows what that baby suffered between the time they got their hands on her till the time that baby died."
When Delilah was born, social services gave emergency custody of the child to Ucman's aunt after investigators determined that the couple and their apartment were not fit for an infant. Social services reportedly returned the child to their custody early last month after they cleaned up their home.
Child Welfare Services were warned by multiple people that the parents were a threat to the child's safety. Both defendants are being held without bond, according to reports. They are scheduled to appear before a judge at 1:30 p.m. on Monday. This is a developing story and it will be updated as new information become available.