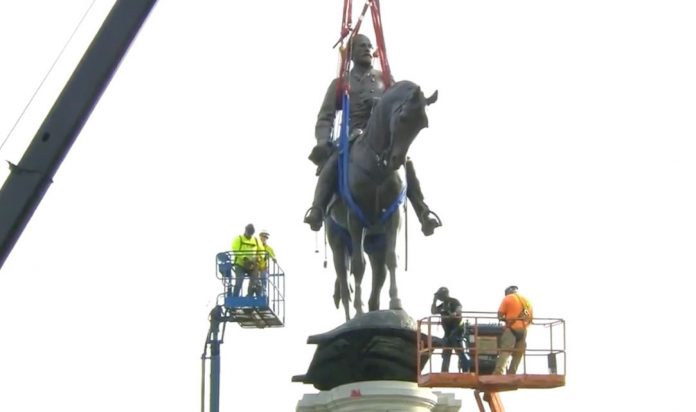 Last summer numerous Confederate statues were removed from their spots following George Floyd's death and protests against police brutality and racism that took place around the world. Ten days after Floyd's death, Virginia Governor Ralph Northam announced that the Robert E. Lee monument that stood in that state's capital would be removed.
That day has finally come. The United States' largest Confederate statue was removed Wednesday morning. Early Wednesday morning, crews surrounded by a heavy police presence removed the 12-ton, 21-foot tall statue from its perch on Monument Avenue in Richmond, Virginia.
Preparations began Tuesday evening, and the demolition will continue into Thursday when crews disassemble the base of the statue.
"Virginia's largest monument to the Confederate insurrection will come down this week," Northam said in a statement Monday. "This is an important step in showing who we are and what we value as a Commonwealth."
The removal of the statue is just another step in rejecting the Confederacy.
For nearly the entire Civil War, Richmond, Virginia served as the capital of the Confederacy.
Decades after the war, the idea of Monument Avenue came about when Virginians wanted a way to honor Lee, a commander of the Confederate Army during the Civil War. Construction began on a statue dedicated to Lee in 1890, and when it was unveiled it was estimated that approximately 100,000 people were present for the unveiling.
Several more statues dedicated to Confederate figures were added to Monument Avenue over the years.
However, after summer 2020, they were all removed, and the only one left standing was Lee.
The removal of the Lee statue was met with criticism and legal battles. However, after more than a year of fighting with the courts, the Supreme Court of Virginia sided with the state, which meant the statue would come down.
According to reports, the statue will be cut in two and placed in a state-owned facility. While its pedestal, which has been decorated with graffiti will remain standing for the time being, plaques on the pedestal will be removed.
It's reported that a time capsule containing a vaccination card, photo of a Black ballerina, Black Lives Matter sticker, and an issue of National Geographic with George Floyd's photo, will be placed there instead.
After the base of the statue was cut from the pedestal, workers began a countdown and the statue was hoisted from the poistion it stood for more than 130 years. The only statue that remains on Monument Ave is of Arthur Ashe, an American tennis player who was the first Black person to win the men's singles championship. Although his statue stood on Monument Avenue, he had no relation to any of the Confederate leaders who were also memorialized. Now he stands alone.