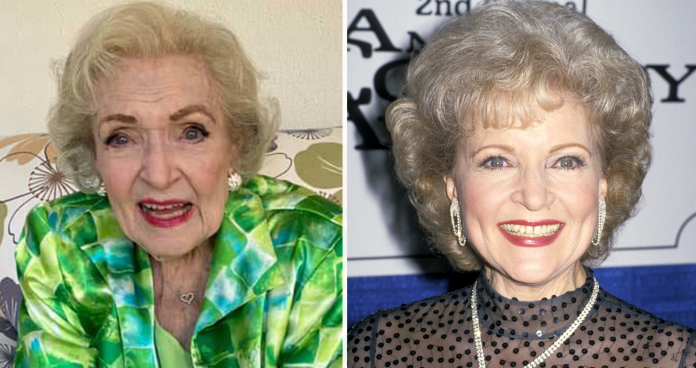 Betty White was just two weeks short of her 100th birthday when she passed away. However, the celebrated and legendary actress lived a long and happy life, appearing in some of the most beloved productions in show business history.
After White passed away on December 31, many of her friends and colleagues celebrated her life through social media and other outlets. And on what was to be Betty White's 100th birthday, her assistant, Kiersten, decided to pay tribute.
On Betty White's official Facebook page, Kiersten posted a picture of the legendary actress. And according to the assistant, it's one of the last pictures ever taken of Betty White. 
On December 31, Betty White passed away. The news shocked many fans, and now, the legendary trailblazing actress is being honored worldwide.
Her close friend and agent Jeff Witjas said that she died peacefully in her sleep at her home.
"Even though Betty was about to be 100, I thought she would live forever," Witjas told People in a statement. "I will miss her terribly, and so will the animal world that she loved so much. I don't think Betty ever feared passing because she always wanted to be with her most beloved husband, Allen Ludden. She believed she would be with him again." 
Betty White passed away only weeks short of her 100th birthday, which would've been on January 17.
The special day had many of her friends celebrating her life, with several celebrities sharing their greetings to White through social media.
One of whom was Betty White's assistant, Kiersten. Through White's Facebook page, she wrote a wonderful tribute – alongside one of the last photos taken of the Hollywood star.
"Hello Everyone! It's Kiersten. Betty's Assistant. On this special day, I wanted to share this photo of Betty. It was taken on 12/20/21," Kirsten wrote.
"I believe it's one of the last photos of her. She was radiant and beautiful and as happy as ever. Thanks to all of you who are doing kind things today and every day to make the world a better place."
The photo Betty White's assistant, Kirsten, posted of the legendary actress sure reveals one thing; that Betty was happy and full of life until the very end.