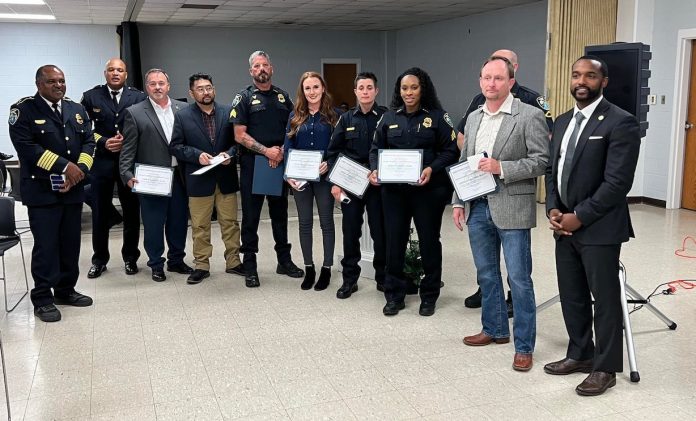 Shreveport, LA – According to the police officials, more than 200 officers and supporters reportedly gathered at Northwest Technical Community College on North Market Street to honor officers that have gone above and beyond the call of duty.
Officials said that the ceremony served to honor those for both 2021-2022 and 2020-2021 as the pandemic prevented us from having a ceremony last year.
Chief Wayne Smith, Deputy Chief Antwoine White, acting CAA Angela Willis, and Assistant Chiefs presented the awards.
None of this would have been possible without the North Shreveport Business Association's generosity and ongoing support, officials said.
Awards are as follows:
Chiefs Appreciation Award:
Corporal Chris Lee

Office Specialist Cherita Moore

Corporal Gavin Washington

Officer Daniel Robalo

Officer Xiomara Soza
Unit Citation Awards:
Shreveport Police K9 Unit

Shreveport Police Department Traffic Enforcement Unit

Street Level Interdiction Unit

Violent Crimes Abatement Team
Police Commendation Award:
Lieutenant Matthew Prunty

Sergeant Meosha Moses

Sergeant Briana Rivera

Sergeant Lonnie Haskins

Corporal John Lee

Corporal Hai Phan

Corporal Michael Hayes

Corporal John Briceno

Corporal Anthony Haines

Corporal Robert Cerami

Officer Natalie Hudgens.

Corporal Joel Davidson

Officer Vanessa Gray

Officer Brent Ouzts

Officer Nathaniel Davis

Officer Christopher Davidson
Life-Saving Awards
Corporal Srederick Matthews

Corporal Robert Entrekin

Corporal Tina Morris

Officer Courtney Thibodeaux

Retired Captain Gayle McFarland

Sergeant Susan Mendels

Corporal Marcus Hines

Corporal Joshua Pettigrew

Officer Clemmie Porter

Officer Austin Page

Officer Codie Lindsey

Officer Conner Ballard

Officer Loren Thibodeaux

Officer Joshua Mitchell

Officer D'Andre Jackson

Corporal Rodney Keaton

Officer Anthony Visciotti

Officer Rosendo Rodriguez

Officer Hunter DeLoach

Corporal Mason Guy

Corporal Jeremy Kelley

Corporal Tina Nelson

PCO2 Tenisha Lesane

Nathaniel Davis

Corporal Marcus Hines

Corporal Mason Guy

Corporal Brian Michael
Civilian of the Year:
Systems Analyst Maria Whitaker 2020-2021

Office Specialist Kanique Prince 2021-2022

Support Officer of the Year:

Corporal Latoyia Marsden 2020-2021

PCO1 Pam Douglas 2021-2022
Training Officer of the Year:
Corporal John Lee 2020-2021

Corporal Derek Barker 2021-2022

Investigator of the Year:

Detective Adam McEntee 2020-2021

Detective Ebony Ford 2021-2022
Supervisor of the Year:
Lieutenant Rob Elliot 2020-2021

Sergeant Alison Azlin 2021-2022
USD Officer of the Year:
Corporal Greg Washington 2020-2021

Corporal Rodner Medlin 2021-2022
Purple Heart Award:
Medal of Valor: