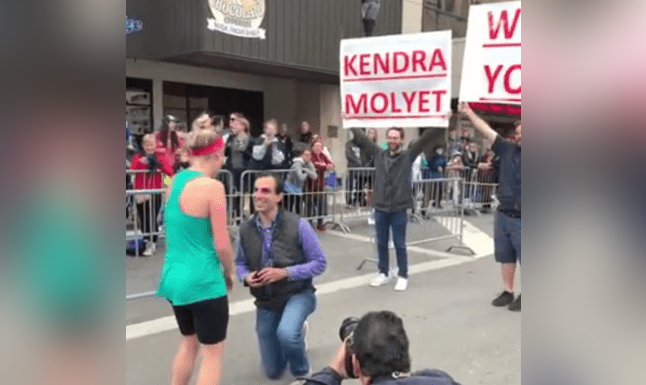 A woman had more than cheers and applause waiting for her at the finish line after running 13.1 miles at the Akron Half Marathon. As she ran the final leg of the race, she saw her name in big bright letters, and right at the finish line was her boyfriend, sitting on one knee with a ring in his hand. The night before the marathon, she waited in anticipation for her race but had no idea the day was going to become a whole more than what she had in mind.
Meanwhile, her boyfriend, Matt Smartnick was nervous about the next day and only got an hour's worth of sleep that night. Matt had been dating the woman, Kendra Molyet, for nearly four years, and he was ready to ask her to spend the rest of his life with him.
The couple first met when they were both studying at the University of Akron. Matt was finishing law school while Kendra was pursuing her undergraduate degree. Although they dated a few times while studying, they parted ways only to eventually meet unexpectedly during a visit to New York.
"We met by chance again in New York City," Matt said. "I was visiting one of my friends out there and she was visiting one of her friends." That night, they went out and now, four years later, they are ready to exchange wedding vows.
"Pretty early on, I knew she was the one," Matt said.
At first, Matt thought of proposing to her over dinner. But as the half marathon approached, he thought slipping the ring on her finger at the finish line had the makings of a heart-tugging moment.
"I wanted to do something memorable," Matt said. "I know she will have that adrenaline going through her and that sense of accomplishment when she finishes."
When Kendra's mother, Jane Molyet, heard about the idea, she joked about it and said, "She's probably going to be a sweaty mess."
However, Jane was happy to see the effort her future son-in-law was ready to put in. "[We] had to make a lot of phone calls," Jane added. "[He] had to get special permission to do this."
Matt's mother, Cheryl Smartnick, was also surprised to see her son do something out of character. "This surprised me," said the happy mother. "He called me up and he said, 'Mom, I'm going to do this.'"
On the big day of the half marathon, Kendra ran her race and approached the finish line to find Matt's friends holding up signs that said: "Kendra Molyet. Will you marry me?"
Kendra said: "Coming up there was a huge hill and it was super-tiring, then I saw my name in letters. It was like, 'marry me.' That was crazy."
Of course, she said "yes," and the couple sealed their engagement with a kiss. "We're overjoyed. We're very happy," Kendra's father, John Molyet, said. John added that Matt had his blessing before the proposal to his daughter made news headlines everywhere.
One of Kendra's sisters, who is also married to someone named Matt, gleefully added that they are more than happy to welcome another Matt to the family. She said, "We've got two Matts—Matt One and Matt Two."