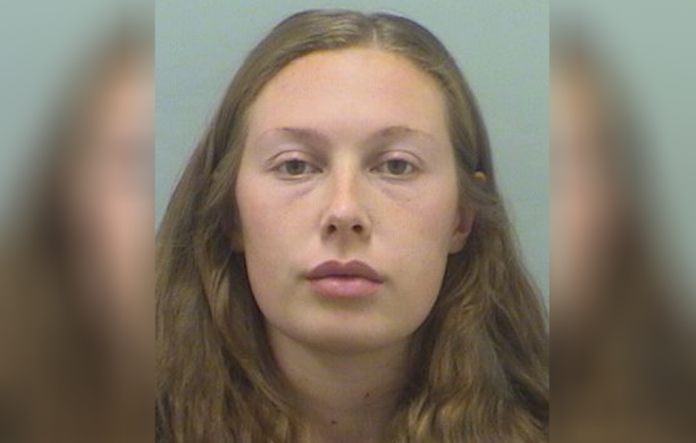 According to the court documents, the 20-year-old woman was arrested for allegedly killing her newborn baby on Sept. 26, 2020. Authorities say the woman was arrested on Thursday, after a year-long investigation. The 20-year-old mother from Colorado was arrested in Wyoming. While it's not clear what took place during the investigation for the next 12 months, deputies eventually obtained an arrest warrant for the woman.
On Sept. 26, 2020, the 20-year-old woman, Peyton Green, arrived at the local hospital. The medical staff at the hospital found evidence she was pregnant. That included lacerations, the pregnancy line, but there was no baby.
Authorities searched the residence with her parents permission and found a dead newborn stuffed in a bag in a bathroom cabinet. According to the police officials, her parents said they did not know about a pregnancy.
Her father said that his daughter had been saying she was tired and had cramps. She went upstairs for a bath but was still there an hour later. When she stepped out of the bathroom, she fell to her knees in the hallway. The parents were going to take her to the hospital, but she fell onto her butt on the steps. So, the parents called an ambulance.
According to the police officials, the suspect denied ever having intimate relationship. "I have no recollection of that," she allegedly said. A nurse suggested that she could have been drugged or raped. Investigators discovered that the suspect recently contacted her ex-boyfriend. She told him that she was pregnant, but he did not believe her. The ex-boyfriend insisted they had used protection.
Her friend told investigators that Green contacted her in June 21, 2020, claiming to be pregnant. Green told her friend that her ex-boyfriend blocked her after she texted him. She did not want his child. The women discussed ways she could get an abortion.
Authorities say that the ex-boyfriend agreed to give his DNA and offered to do what he could to help in the investigation. Testing determine he and Green were the baby's parents.
According to the court documents, autopsy revealed that the baby was almost full term and born alive. The cause of death is still undetermined. Authorities say it was one or more of several possibilities: strangulation, asphyxiation, drowning, smothering, suffocation, hypothermia, or breathing amniotic fluid into the lungs.
The 20-year-old woman faces a count each of murder in the first degree, tampering with a deceased human body, and attempt to influence a public servant. This is a developing story and it will be updated as new information become available.