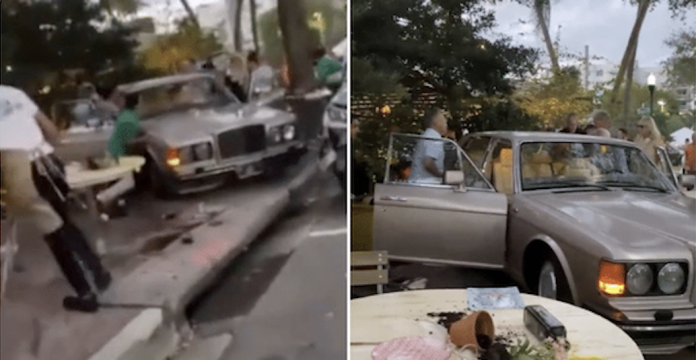 Police officials said the elderly woman was reportedly attempting to parallel park outside a busy restaurant,  but instead accelerated into the sidewalk cafe area, striking several tables. The woman allegedly stepped on the gas pedal instead of the brake while reversing, accelerating into outdoors diners, killing one diner and sending six others to hospital. 
This unfortunate accident on Washington Avenue in trendy South Beach just after 6pm outside Italian restaurant Call Me Gaby, leaving tables overturned along the sidewalk outside the popular Florida restaurant. 
Police officials said the woman was reportedly backing her Bentley car into a space. The unidentified woman then sped up without warning and hit several tables.
Unfortunately, 7 people suffered injuries, including a three-year-old child. One of the victims was later pronounced dead, police said. The victims' age or identities have not yet been released. 
Police spokesman Rodriguez reportedly said:
"The driver who caused this accident remained on the scene and is cooperating with investigators. Right now all indications lead us to believe that this was a horrific accident however more investigation is required."
Three hours after the crash, overturned tables, cloth napkins and evidence markers continued to line the sidewalk outside the restaurant.  
Robert Deburro, a witness, reportedly said that people at the restaurant jumped up, and some ran away and some ran toward the smoke to help. He reportedly said:
"I heard the screeching, crashing, screaming … There was a small boy and a few people trapped under the vehicle. We grabbed the vehicle, a bunch of people grabbed the vehicle, and counted 'One, two three!' And lifted the vehicle up. A waiter pulled the young boy out."
Detectives do not believe the driver was under the influence and the cause of the crash remained under investigation. It remains unclear whether the elderly female driver will face any charges. This is a developing story and it will be updated as new information become available. 
DISTURBING VIDEO: One dead and six hospitalized including a 3-year-old after an elderly woman, reportedly attempting to parallel park her Bentley, slammed into diners at Call Me Gaby restaurant on Washington Avenue in Miami Beach at 6pm tonight pic.twitter.com/dmNeAlv1AE

— Because Miami (@BecauseMiami) February 25, 2022