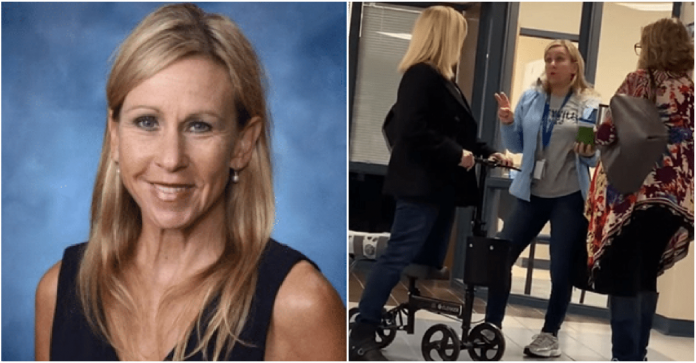 The middle school teacher reportedly resigned her post at school, after comments she believed to be making privately on school grounds ended up on social media and forced her to quit her job. The teacher was reportedly having a conversation with two other colleagues in a school hallway when she reportedly said: "Conservative Christians need to get COVID and die."
The 8th grade discoveries and English teacher at CMS in Texas, Lisa Grimes, was having a conversation with two other colleagues in a school hallway when she reportedly said: "Conservative Christians need to get COVID and die."
Per reports, the conversation was secretly being recorded, with video of her soon being widely shared on all social media platforms. 
In the video, the teacher from Texas reportedly said that COVID-19 vaccines were being given out the same way flu vaccines are. She also said that if they had been given out immediately, the virus would be gone.
Lisa Grimes reportedly said: "We have a political system that will not allow us to [inaudible] so we're vaccinating like the flu … which is, you know … get the flu vaccine if you want but you can't — don't 'tread on me.' [crosstalk] But it's too late. It would have had to have been immediate. If we would have done it immediately, it'd already be gone. The rest of my life is impacted because of politics? Because of conservative Christian cr*p? I'm telling you, those conservative Christian people, they need to die, they need to get COVID and die."
The conversation was initially shared on the Canadian video conservative platform Rumble.
The school district issued a note to parents where they said the teachers' statements don't reflect the views of the school district or middle school.
School board president Rodriguez reportedly said that the board rejected the teachers' statements and that it supported the decision to place her on administrative leave.
An update from the district Thursday afternoon said it is working to make sure there's no disruption to students' learning.
The school board released the following statement:
"This incident should not overshadow the many heights that Colleyville Middle School students reach every day or the tireless work of teachers at Colleyville Middle School and across GCISD."
Per reports, the teacher resigned her post at the school.
The school board released the following statement:
"The teacher whose words were captured in a widely circulated online video has resigned and will not be returning to the classroom. GCISD is working to ensure that her students experience as little disruption in their learning as possible.
The views expressed in that video do not reflect the opinions or the professionalism of CMS and other GCISD employees. It is inexcusable to wish harm on those with whom we disagree."