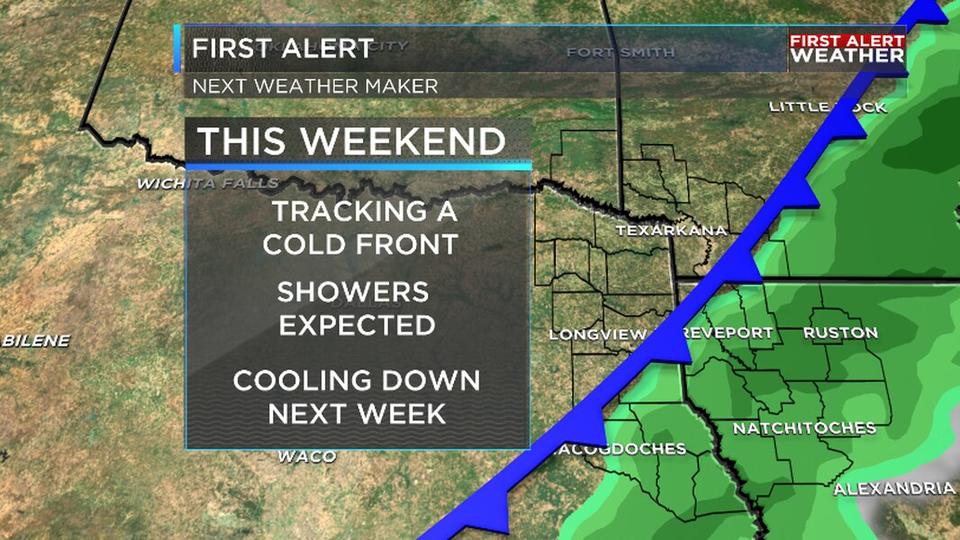 Good morning and happy Friday eve! As we see beautiful weather again today across the ArkLaTex we are watching Tropical Storm Eta making landfall on the northwest coast of Florida. Back here we are expecting another very comfortable day with highs in the mid 70s. This will be the story again Friday as we get more great weather. Heading into the weekend we are still expecting a cold front to move through the region Saturday and early Sunday that will bring an end to our above average temperatures, at least for a few days. Behind the front sunshine will quickly return, but we are expecting high temperatures at least through the first half of next week to be in the 60s.
So as you are getting ready to head out the door this morning grab those sunglasses once again as it will be another fantastic day for the ArkLaTex. Temperatures this morning are cooler with most of the viewing area down in the 50s. Like Veterans Day we are expecting ample sunshine to help boost our temperatures today to move up into the low to mid 70s. So expect another picture perfect day for the region.
Looking ahead to your Friday and weekend we expect changes to start moving into the region. Not so much on Friday, where we could see some morning clouds, but temperatures will still be very comfortable with high temperatures in the 70s with more sunshine. Once we get to the weekend the trailing end of a cold front will push through the region bringing rain chances along with cooler temperatures. Rain chances Saturday will be highest across the I-30 corridor and then will move south early Sunday morning. High temperatures Saturday will still be in the 70s, but on Sunday highs across the region could drop back down in the 60s. Even with the rain chances we don't expect a washout either day for the region.
Moving ahead to next week we are expecting sunny skies, but also cooler temperatures for the ArkLaTex. High temperatures for the first half of the week will be slightly below average to average with highs for the region that will be in the mid to upper 60s possibly peaking around 70. In addition to the crisp air expect ample sunshine that will make for some fantastic Fall weather.
So while we could see some showers this weekend expect our overall great weather to continue. Have a great day!