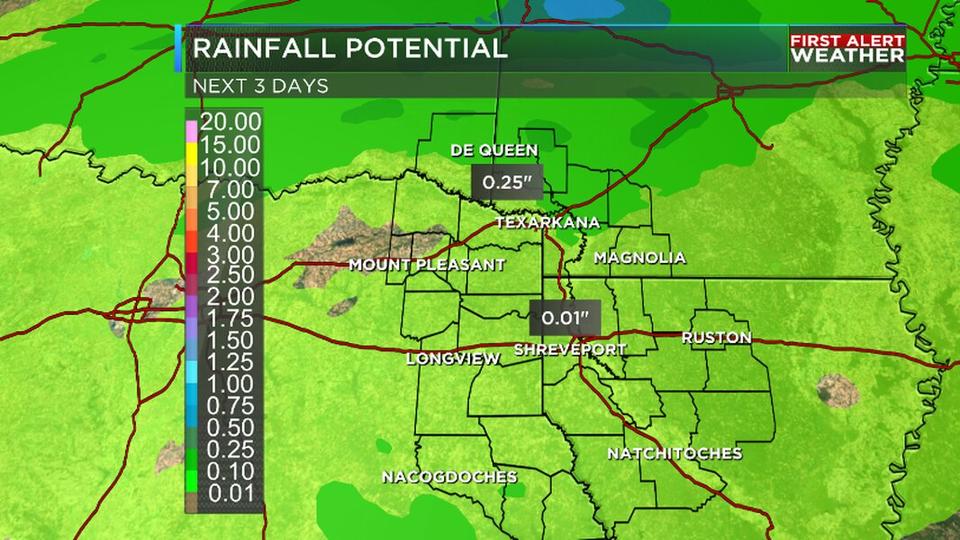 Good morning and happy Friday! We are tracking a little bit of wet weather this morning across northern parts of the ArkLaTex this morning. The showers will last through the mid morning before clearing out during the afternoon. More shower activity is on way as we head into the weekend as we are expecting a cold front to push through the region. Temperatures ahead of the front will be in the mid to upper 70s. Behind the front temperatures Sunday and as we go into next week will be significantly cooler along with ample sunshine. In the tropics we are expecting more development in the Caribbean either later today or at some point on Saturday. If the storm does get named it would be called Iota.
So as you are getting ready to head out the door this morning some of you may need to grab an umbrella this morning. The focus of the shower activity will be across the I-30 corridor during the morning. This is part of a front that will be pushing through parts of the viewing area. By the middle of the afternoon the showers and cloud cover should fade and make for a nice end to the week. High temperatures will be anywhere from the 60s where we see the showers to the mid 70s in places that we expect to stay dry all day.
Heading into the weekend we continue to track a cold front that will move through the ArkLaTex Saturday and Sunday. Saturday the same places that are expecting to see showers this morning will experience more wet weather. Temperatures Saturday all across the region will be very similar today. Sunday the front and wet weather will push south through the rest of the ArkLaTex. In Shreveport, most of the shower activity is expected to be during the morning hours before clearing out in the afternoon. High temperatures behind the cold front will be in the mid to upper 60s.
Moving ahead to next week the cooler weather we will see Sunday will continue through the first half of next week. High temperatures will be in the mid to upper 60s with low temperatures that will dip into the 40s during the morning hours. Even though we will have to deal with cooler weather, ample sunshine will dominate the ArkLaTex.
So while we do have to deal with showers there more sunny days ahead than cloudy ones. Have a great Friday and weekend.