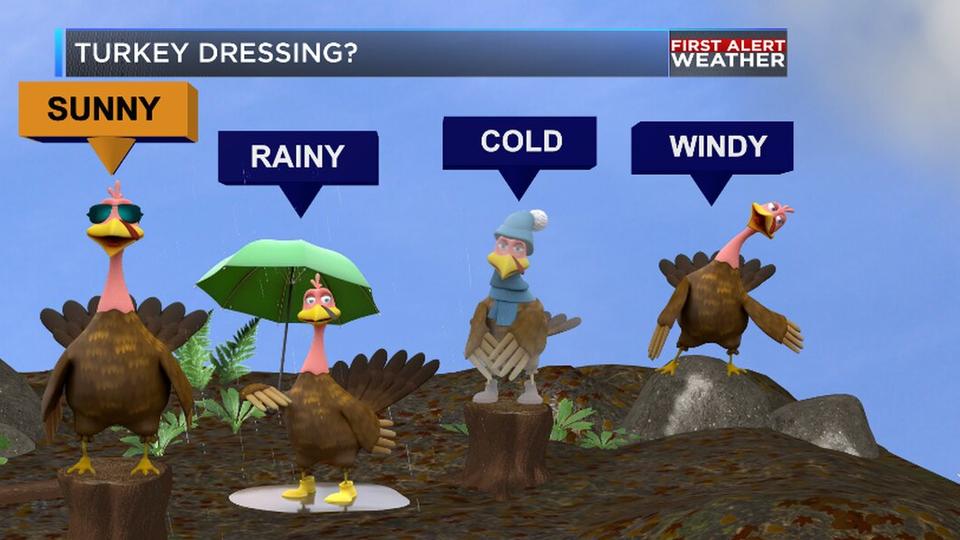 Good morning and happy Wednesday! We are tracking a line of thunderstorms associated with a cold front moving through the ArkLaTex. In a few spots we have seen a couple of Severe Thunderstorm Warnings. The good news is that we are expecting the line of storms to clear out of the region relatively quickly. Behind the front we are tracking cooler temperatures today, but we should see somewhat of a rebound once we get to your Thanksgiving. But looking ahead to Friday and the weekend we continue to track rain and a lot of it especially across the southern portions of the ArkLaTex. Behind all this rain we expect a much cooler start to next week with highs only in the 50s and the potential for our first freeze in Shreveport.
So as you get ready to head out the door this morning while we are tracking a line of thunderstorms for most us the rain should be gone before you head out the door today. Behind the front we are expecting cooler temperatures with highs this afternoon in the low to mid 60s. But the good news is that by the mid morning hours and especially by noon we should see ample sunshine across the region. In addition to the sunshine this afternoon we expect the mostly clear skies to last through your Turkey Day as well. High temperatures on Thanksgiving will be able to rebound to right about the 70 degree mark.
As we look ahead to the weekend though we are tracking more unsettled weather inbound for the ArkLaTex. A developing area of low pressure will begin to bring rain back into the region beginning on Friday. On and off rain is expected throughout the day with the bulk of the wet weather expected to be across the southern half of the region. We are expecting more potential rain on Saturday, but it is looking less and less widespread compared to Friday and Sunday. Again most of the rain Saturday will be across the southern parts of the region. Sunday we will see more rain during the day before the front finally moves through during the evening hours. Temperatures will gradually cool each day with highs Friday and in the 70s and by Sunday we will be down into the upper 50s.
Taking a peek at next week we are tracking much cooler weather for the ArkLaTex. While we should be able to stay through the early part of the week we are expecting our coolest weather of the Fall season. Highs on Monday will be in the low to mid 50s and you can expect highs in the 50s potentially through next Wednesday. The good news is that we should stay dry with a decent amount of sunshine.