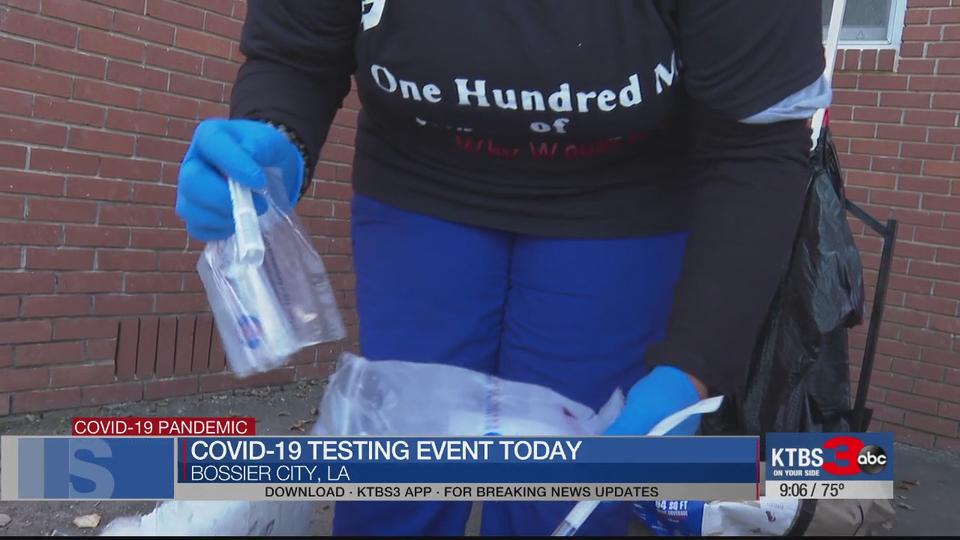 If you think you may have been exposed to the coronavirus, now could be the most important time since the pandemic began to get tested.
"We'll swab the patient, put this swab in here," said Candise Lloyd, Healthcare Professional.
A Covid-19 testing event this weekend in Bossier City put on by the 100 Men of Shreveport community organization. These events have been going on for months, but organizers feel like now could be the most important time since the pandemic began to know where you stand.
"If you want to have a traditional Thanksgiving or Christmas, then you need to know where you are and decide to do the right thing, take a test. We're talking about free tests! said Rickey Carthon of 100 Men of Shreveport.
"As much as I want to hug grandma, I don't want to have something that can take grandma away from me. So this just give us an opportunity to know," said Veronica Bell, Special Projects Coordinator for 100 Men of Shreveport.
They've been doing events like this since all the way back in May. And, with Covid numbers rising in the ArkLaTex I asked if they've seen a rise in people choosing to get tested.
"We had a high spike initially, in terms of the number of people being tested. It went down and it's starting to go back up. People are starting to get tested more in particular because of the holidays," said Carthon.
Many of us at this point in the pandemic have been tested, but so much has changed since the virus hit the U.S. and there's so much information out there to try and figure out. Most of us just want to know the basics… how accurate are the results, how long does it take to get them back and how uncomfortable is it?
"Some people say it tickles, some people say it hurts, some people say it doesn't bother them, but this is the best one I have seen," said Lloyd.
"The PCR test is what's being used and it's a 24 hour turnaround. Unless it's not a very good sample the accuracy of the test 99 percent of the time is going to give you a correct yes or no answer," said Carthon.
The 100 Men of Shreveport organization along with LSU Health will have testing events this upcoming week on Tuesday at Morningstar Baptist Church and Thursday at Galilee Baptist Church.