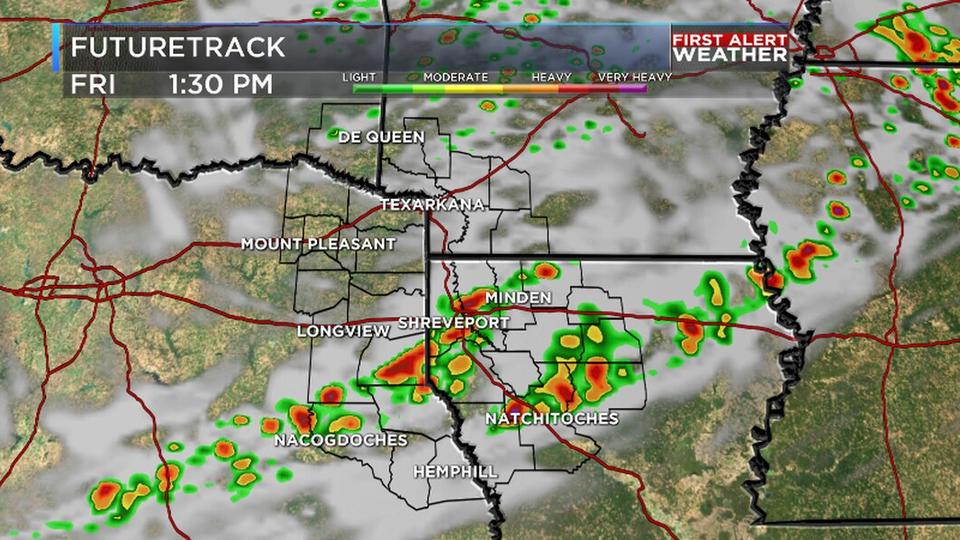 Good morning and happy Friday! We have finally made it to the end of yet another long week, but we are tracking numerous shower and storm chances across the ArkLaTex on Friday.
A cold front that we have been talking about all week has arrived and will be bringing heavy rain along with the potential for some gusty winds today. Behind the front we are expecting some rare comfortable weather as we kick off the month of August. The lower humidity in fact could be sticking around with us through most of next week along with ample sunshine.
So as you are getting ready to head out the door this morning it is a good idea to grab some rain gear if you haven't already run into some showers and storms across the ArkLaTex. Scattered rain and thunderstorms activity this morning will develop into a more consistent line of storms as we move into the afternoon hours. In these storms we are expecting some very heavy rain along with frequent lightning and thunder. There is a low potential for severe weather as well this afternoon with the main concern being strong winds and some large hail. Expect highs to day today to be in the upper 80s.
As we move into the weekend we are expecting the showers and storms to move out and some very comfortable air for this time of year to move in. While an isolated shower is possible during the day Saturday for the most part we are expecting tranquil conditions over the weekend for the ArkLaTex. The biggest thing you will notice is how much more comfortable it will feel over the weekend. While high temperatures will still be near the 90 degree mark the humidity will be more typical of late May than of early August for the region.
As we transition into next week and first full week of August we are tracking rising temperatures, but for the most part mugginess staying in check across the region. Temperatures during the week will be slowly rising into the mid 90s, but due to the lower humidity the heat will feel tame compared to what is possible for this time of year. In additions to the comfortable air, we are tracking little in the way of rain chances as we go through next week.
So after we deal with the storms today get ready for some rare comfortable weather as we kick off August! Have a great weekend!