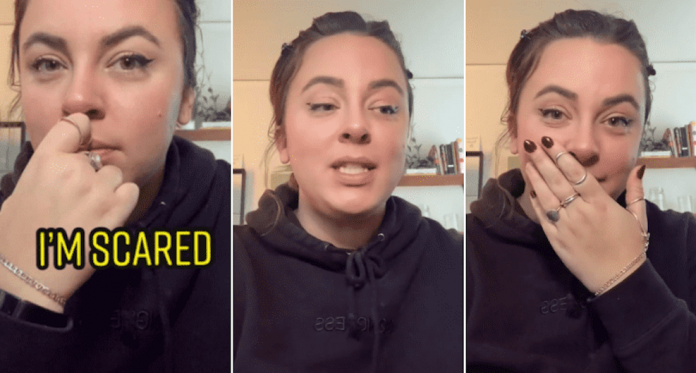 Unfortunately, the ongoing Coronavirus pandemic continues to have a direct negative impact on the healthcare system and on patients who desperately need lifesaving surgery. While people wait to decide whether to get vaccinated or not, the repercussions are terrifying as hospitals fill up with COVID-19 patients. What people don't realize is that those who need life-saving surgeries may not have access to ICU beds because they've already been taken up.
One woman brought this issue to light recently in a TikTok video. Amanda Harris from Oregon found out she had a brain tumor in October 2021 and was told by her neurologist that she needed to get it surgically removed. But heartbreakingly, she confessed in the video that she won't be getting surgery any time soon. 
Fighting back tears, she expressed, "Unfortunately, it is becoming quite clear that I will not be receiving brain surgery this year to remove my tumor."
According to reports, Amanda also said, "For those of you who don't know, I was told on October 1st that removal would need to happen by the end of the year to be sure to avoid the tumor growing large enough for me to start seeing symptoms, which could quite possibly be signs of irreversible brain damage."
She continued, "As well as to prevent the tumor from attaching itself more firmly to the spinal cord than it already is, and therefore making the surgery that much more dangerous."
It took her weeks to find someone to schedule her surgery but when she got a hold of someone, she was told almost all surgeries are being "put on hold due to a lack of ICU beds."
She'd have to wait for something to open up, "which could be weeks or months from now." "I am terrified. Like, obviously I'm scared of the surgery and I'm scared of what recovery is going to look like for me, as someone who already has multiple chronic illnesses and disabilities, but the unknown aspect of all of this is so f—king scary," she admitted. "I'm going to plead again, please get vaccinated. Please get boosted."
The comments section to the video was filled with people who were outraged and saddened by the situation.
One commentator reportedly said: "This infuriates me. My son had his cancer surgery cancelled three times. He finally had it but it had grown a lot. Vaccinate people."
Another person said: "I am unvaccinated and I'm sorry I haven't known what to believe. However I have planned on getting it soon, I'll make sure to ASAP."